How to make Pineapple Upside Down Cake Recipe.
Pineapple Upside Down Cake Recipe. Want to make a change with your cake recipes? Try the Pineapple Upside Down Cake Recipe. It will surely surpass any typical cakes with its lovely and luscious rings of pineapples that sit on top of the cake. Besides, savouring the taste of the cake itself and pineapples are truly bliss. So have it on your table and let the family and friends munch on it. Aside from the appetizing feature, it brings forth a share of health. Knowing pineapple, they are rich in Vitamin C and minerals that your body needs.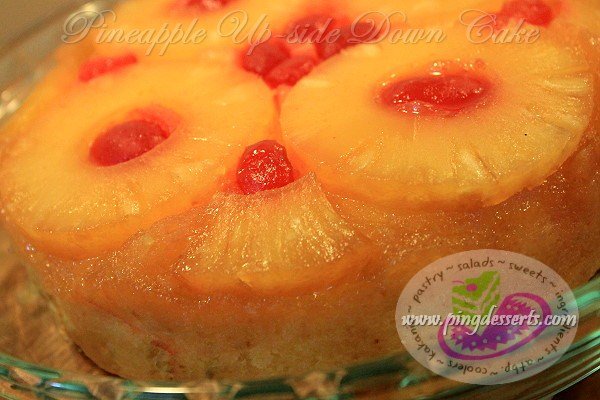 Pineapple Upside Down Cake Ingredients:
¼ cup butter
7 tbsp. Brown sugar
6 slices pineapple, drained and reserved juice
6 cherries or red Kaong, drained
1 1/3 cups all-purpose flour
1 cup granulated sugar
1/3 cup shortening
1½ tsp. baking powder
½ tsp. salt
½ cup fresh milk
¼ cup pineapple juice
1 large egg
Cooking Procedure:
Heat oven to 350F. Put the butter in an 8inch round pan and melt in the oven. Sprinkle brown sugar over melted butter and tilt to coat the bottom of the pan evenly. Arrange pineapple slices over the top and place cherry or kaong in the center of the pineapples and set aside.
Sift dry ingredients together and set aside. In a medium bowl, beat shortening, sugar and egg until smooth. Add in milk, pineapple juice and beat for 1 minute on low speed. Lastly, add all dry ingredients and beat on medium speed for 3 minutes, scraping the bowl occasionally. Pour the batter mixture over the pineapple. Bake for 50-55 minutes or until inserted toothpick comes out clean.
.
Immediately place on a heatproof serving plate upside down over the pan, and turn plate and pan over. Leave the pan over the cake for a few minutes so caramel can drizzle over the sides of the cake. Remove the pan, slice and serve warm.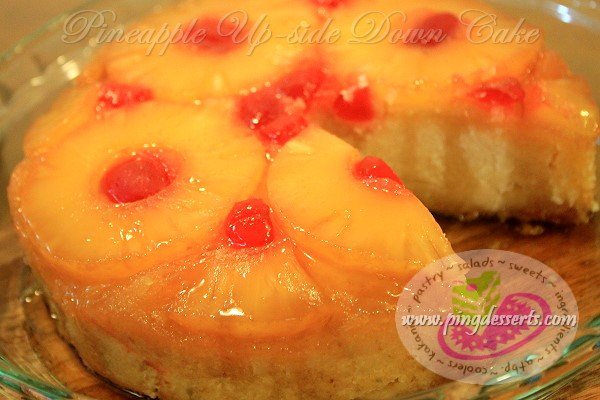 .
A delicious buttery rich and caramely pineapple goodness in every bite.
.