How to make a buttery and yummy Mini-Peach Tarts Recipe.
Jolly Peach Tart Recipe Jolly Peach Tart Recipe. This beautiful miniature tart is made with a perfect buttery tart crust and not too sweet. These tarts are filled with creamy custard filling, top with peaches in light syrup, decorated with quartered cherry, a mint leaf and glazed with peach flavored sugar syrup. A great Christmas recipe, to prepare and to share with your friends and family.
Makes: 12 tarts
Ingredients:
Tart Crust:
70g butter
½ of an egg, beaten
¼ cup icing sugar
¾ cup plain flour + ¼cup for dusting
a pinch of salt
Custard Filling:
1 cup full cream, evaporated milk
2 egg yolks
2 tbsp. sugar
1 tbsp. flour
1 tbsp. corn flour
1 tsp. vanilla
Fruit Toppings:
1 can (825g) Jolly Peach Halves in syrup, drained and reserved syrup
4 pcs. Jolly Maraschino Cherry, cut in quarter
12 mint leaves
Sugar Syrup:
5 tbsp. Peach reserved syrup +
3 tbsp. sugar, (simmer over low heat until thickens & set aside. Use to glaze the fruit tarts)
Procedure:
In a bowl, mix sifted flour, icing sugar, salt, butter and egg until become dough and knead. Sprinkle some flour to your working area and knead it to form a ball and wrap in a cling film. Refrigerate the dough for about 25 to 30 minutes or until it is workable state.

When the dough is ready knead on a floured surface and cut into 12 portions. Press dough on prepared tins and prick with fork. Refrigerate and let it rest for another 20 minutes before baking. Bake in a preheated oven at 350F, for about 15-18 minutes or until lightly brown. Let it cool down completely before removing from the tin to avoid breaking the crust. (You can bake the crust ahead of time and store in a plastic container until later use.)
To make the custard filling: Heat the milk in a saucepan just until boils then fire off. In a bowl, whisk egg yolks and sugar until smooth, then add vanilla extract. Add sifted flour and corn flour and whisk to combine. Add the hot milk, 4 tablespoons to temper the egg mixture and whisk vigorously. Pour the tempered egg mixture back in saucepan and heat over a low fire. Whisk constantly to avoid lumps and stir until thickens. Fire off and let it cool completely. Meanwhile, in another small saucepan, combine peach syrup and sugar, heat over low fire and let it simmer until becomes think syrup. Fire off and set aside to cool completely.
To assemble peach tarts: Prepare cooled tart crust, custard cream filling, peaches sliced or balls, sliced cherry, mint leaves and sugar syrup for glazing. Brush bottom and sides of tart crust lightly with glaze. (I forgot to brush my tart crust… oh no!) Fill each tart crust with custard cream and decorate with peach fruit balls. Add some sliced cherry in the center and a mint leaf.
Lastly, brush fruits and custard lightly with sugar syrup to avoid from scorching and oxidizing. You can arrange these on serving plate then, serve and enjoy. These peach tarts can last for a couple weeks if refrigerated and kept on sealed containers. You can also place them in small containers or pastry box and share it with your family and friends.
– oOo –
What would you do if JOLLY surprises you with lots and lots of canned fruits?? Of course you'll be happy, grateful and excited like Me right? (Happy! It's so nice to be happy, shalalalah…) Thank you very much JOLLY!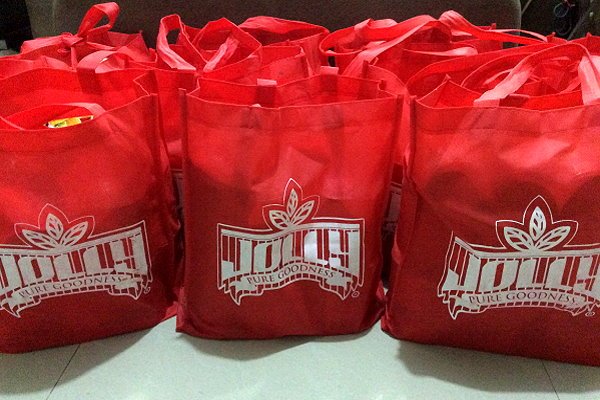 Actually, I've been picking out canned fruits from Red Jolly Bags, put it on the table and since I don't know exactly what to do with them, hmm silly Me, so I put it back in the bag (LOL). On the next day the same thing happens, got some canned fruits out of the bag and place them again on the table and put it back on the bag. Sounds like I'm starting to make a crazy routine hahaha… Hell No!, there's no way I'm gonna do it on the next day. So let's get busy making some delicious treat Today! yes, as in Today!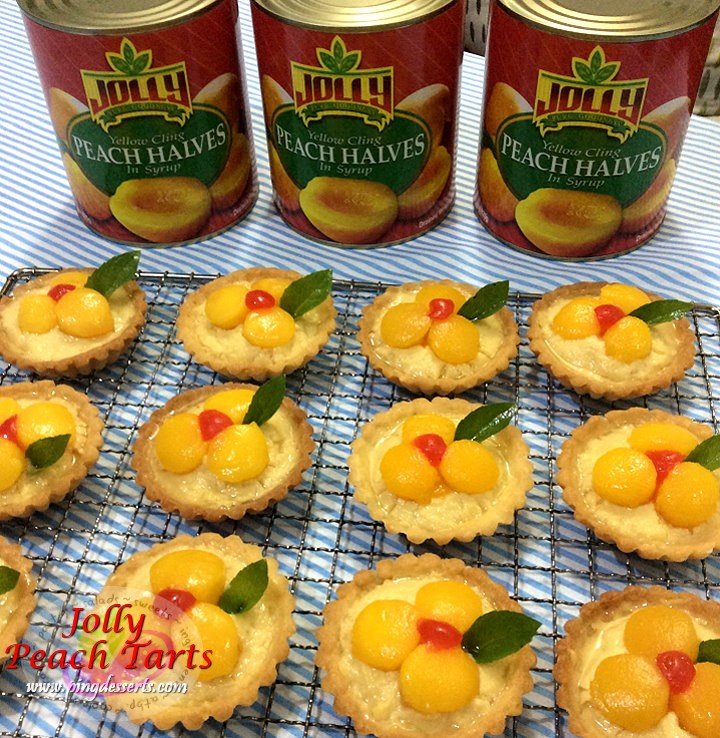 Look at those pretty mini Jolly Peach Tarts, can't wait to finish all my prep and photo shoot. I'm so excited to try some 🙂 May this humble recipe of mine will capture your eyes, tickles your throat and create some joyful noise in your tummy… (I want one! I want some! hehe…)
Thanks for visiting, can't wait to hear from you guys. Have a blessed day everyone 🙂
– oOo –
Everyday We should at least keep a "Gratitude List" and be thankful
for the good things that happen to Us.