How to make a mouth watering frozen dessert Recipe.
Ube-Langkasuy Graham Float A 3 layer honey graham crackers, filled with ube flavored whipped cream and condensed milk. A super rich, tropical and nutty icebox cake that will satisfy all ube lovers out there. All you need is to whip the cream with an ube extract, layer with graham crackers and add some jackfruit, cashews and finish it with a sprinkle. Refrigerate your icebox cake overnight until the graham crackers absorb the mocha cream moisture and set completely.
Makes: 8-12 slices
Ingredients:
Cream:
1 box (200g) Frosty Whip Cream Powder, whipped according to package
¾ cup cold water
1 (250ml) nestle all-purpose cream, chilled
¼–½ cup sweetened condensed milk (according to taste)
3-4 tsp. ube extract
½ tsp. salt
Layer:
1 pack (200g) honey graham crackers
½ cup toasted cashews, roughly chopped
¼–½ cup Langka "Jackfruit", (if frozen thawed first, drained and chopped)
A violet sprinkles, to add on top (optional)
Check out Video Recipe:

Procedure:
Prepare a 7×11 inches baking dish or any similar container and set aside. I prefer to use a 7×11 glass dish because it gives your icebox cake a Wow Yummy Look and perfectly fit for a single pack of graham crackers. In this recipe all we need is to whip our trusted Frosty Whip Cream Powder with ube extract. This recipe is a heaven sent to Ube Lovers out there, Ta Baby will surely love this recipe. She craves for Ube Ice Cream, Bilo-Bilo with Ube, Ube Halaya, Piaya Ube, haha… anything with ube in it. (Adik sa Ube LOL)
In a mixing bowl, combine frosty whip cream powder and cold water, then whipped until light and double in size. Add in chilled all-purpose cream, condensed milk, ube extract and a pinch of salt and mix until well combine. At this point you can taste test your cream and adjust the sweetness according to your taste. Divide the whipped cream mixture into 3 parts, so you can have a 3-layer Ube – Langkasuy Icebox Cake.

To assemble the Ube – Langkasuy Icebox Cake, first you have to arrange graham crackers in your baking dish. Lay the crackers flat and even until you cover the whole bottom of the pan. Use knife or your clean fingers to cut and trim off excess crackers, if needed. Pour 1 part of the ube cream mixture on top of graham crackers and spread evenly. Scatter 1/3 part of chopped Langka "Jackfruit" and chopped cashews on top of your cream.
Place another layer of graham crackers, followed by another ube cream and scatter some more chopped Langka "Jackfruit", Cashews" and repeat process for the last time, ending with some violet colored sprinkles on top. Chill for 8 hours or overnight to set completely before serving. Slice, Serve and Enjoy!
Here's the ingredients we used in our Ube – Langkasuy Graham Float. This recipe can be modified so feel free to replace Frozen Jackfruit with the fresh ones. Frozen Jackfruit is a little bit expensive than the fresh ones. So if you prefer the fresh ones, visit the nearest fruit stall in your area. You can use either roasted or salted cashews, it doesn't matter and roughly chopped it. And to make it more appealing, try to add some violet sprinkles on top.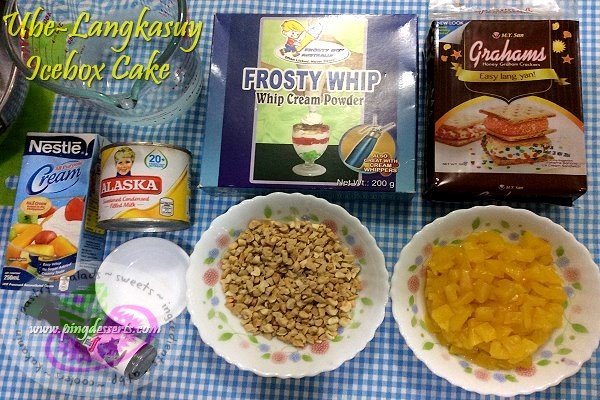 Note: I use 1 box (200g) of frosty whip cream powder and cold water and whipped according to package direction. I add (250ml) all-purpose cream and reduced, condensed milk into ¼ cup since frosty cream is already sweet.
Super rich, a delicious tropical fruit with a distinct aroma, so nutty and creamy, it's perfect. Ube–Langkasuy Graham Float dessert is another recipe to add to your to do list, this coming Holiday. To keep your refrigerator cake, stay longer, freeze immediately after use, this will last for 2 weeks.
Thanks for visiting, can't wait to hear from you guys. Have a blessed day everyone 🙂
– oOo –
Every 24 hours God has a fresh new supply of favor, wisdom and forgiveness.
So be Grateful and Be Happy, Always!