How to make a mouth watering frozen dessert Recipe.
Halo Halo Graham Float. A 3 layer graham crackers, filled with whipped cream, condensed milk and vanilla. Top with Halo-Halo Condiments, such as: Sweetened Plantain, Macapuno, Ube Halaya, Sweetened Beans, Nata de Coco, Pandan and Langka Gulaman top with Leche Flan. This no-bake-dessert is refrigerated overnight until the graham crackers absorb the cream. Another Pinoy Style inspired refrigerator cake to share with your family and friends.
I have a couple packs of Graham Crackers on my pantry and it's nearly due. So I decided to do something before it expires. I really wanted to make an Ube-Macapuna Icebox Cake but Ed had a better idea, "Halo-Halo Icebox Cake", sounds weird right? (LOL)… but why not, so I gave it a try. I made some mini leche flans in advance and gulaman. For gulaman, I use 2 envelopes of Knox, I add Pandan and JackFruit extract and sugar in each pack. I cooked according to package direction and let it set in the fridge. Now that I have everything needed for this recipe, lets start with fingers crossed ha ha…
Makes: 8-12 slices
Ingredients:
Cream:
1 box (200g) Frosty Whip Cream Powder, whipped according to package
¾ cup cold water
1 (250ml) nestle all-purpose cream, chilled
1/8 cup sweetened condensed milk
1/2 tsp. vanilla extract
1/4 tsp. salt
Layer:
1 pack (200g) honey graham crackers
1 bottle Halo-Halo Mix, drained and separated
¼ cup macapuno, (store bought)
½ cup minatamis na saging, (home made)
½ cup ube halaya, (store bought)
1 cup gulaman, cubes (pandan & langka flavored) optional
12 pcs. Mini Leche Flan, for toppings (home made)
1 cup caramel syrup, to drizzle (optional)
Procedure:
Prepare a 7×11 inches baking dish or any similar container and set aside. I love to use a 7×11 glass dish because it doesn't only give your dessert a presentable look, but it is also perfectly fit for a single pack of graham crackers. Drain a bottled of halo-halo condiment mix, separate the beans, macapuno and nata de coco then set aside.
In a mixing bowl, combine frosty whip cream powder and cold water, then whipped until light and double in size. Add in chilled all-purpose cream, condensed milk, vanilla extract and a pinch of salt and mix until well combine. At this point you can taste test your cream and adjust the sweetness according to your taste. Divide the whipped cream mixture into 3 parts, so you can have a 3-layer Halo-Halo Icebox Cake.
To assemble the Halo-Halo Icebox Cake, first you have to arrange graham crackers in your baking dish. Lay the crackers flat and even until you cover the whole bottom of the pan. Use knife or your clean fingers to cut and trim off excess crackers, if needed. Pour 1 part of the cream mixture on top of graham crackers and spread evenly. Scatter 1/3 part of your halo-halo condiments on top of your cream.
Place another layer of graham crackers and repeat process until you have 3 layers, ending with Halo-Halo condiments. Chill for 8 hours or overnight to set completely before serving. Eyeball and divide the cake into 12 equal parts and top each with leche flan and a drizzle of caramel syrup before serving.
Here's the ingredients we used in our Halo-Halo Graham Float. This recipe can be modified so feel free to add or replace, A pack of Graham Crackers, Frosty and Nestle Cream, Condensed milk , a bottled of Halo Halo Mix, Macapuno, Ube Halaya, Gulaman and mini Leche Flan.
Note: Note: I use 1 box (200g) of frosty whip cream powder and cold water and whipped according to package direction. I add (250ml) all-purpose cream and I reduced my condensed milk into 1/8 cup since frosty cream and ube halaya other condiments are already sweet.
Creamy Mini-Leche Flan . . .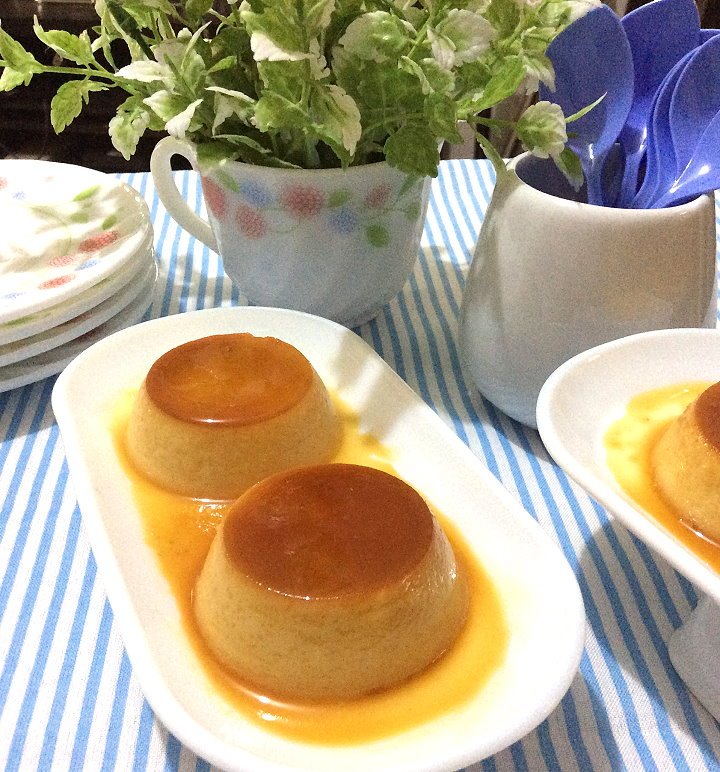 Finally, Here's our new flavored Pinoy Style Icebox Cake, I hope you will give this a try and I hope you will like it too. It's delicious!! With leche flan on top and caramel syrup, Ssssuperb!! and I would love making them again and again and again 🙂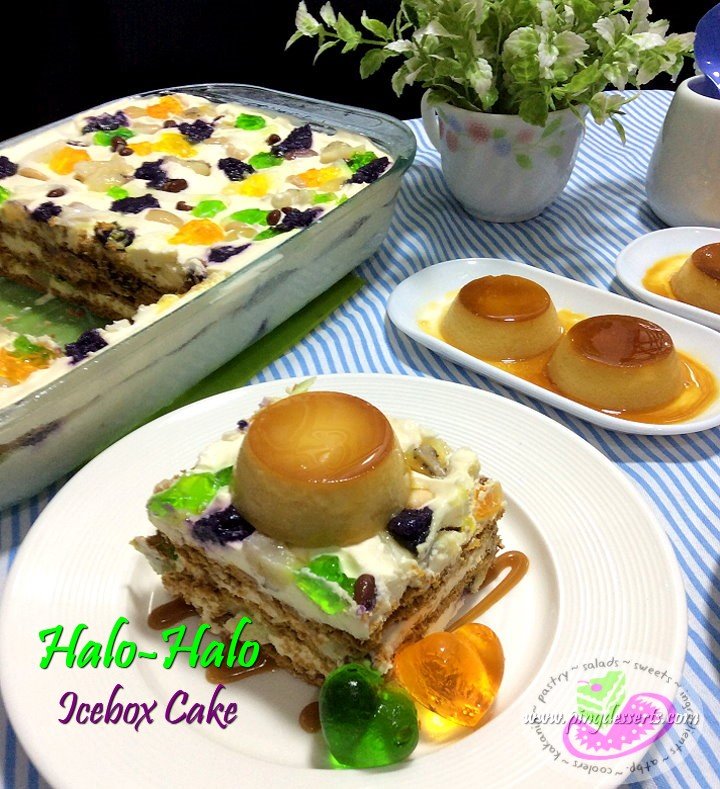 Store your graham float in a container with a fitted lid or cover with plastic wrap to avoid contamination. To keep your icebox cake, stay longer, freeze immediately after use. This refrigerator cake will last for 2 weeks.
Thank you for visiting and have a blessed week guys 🙂
– oOo –
Those who move forward with a happy spirit will find that things always work out.