How to make a beautiful and fancy mini-heart cakes for Valentine's Day.
Easy Valentines Mocha Cake Recipe. I will show you how to make a simple and super easy mini-heart creamy latte mocha cake. All we need is freshly baked mocha sponge cake or mocha chiffon cake iced with creamy latte mocha flavored whipped cream frosting and top with homemade mini-mocha chocolates. Treat your Loved ones, BFFand Friends this coming February 14 with this easy Valentine's Day Cake.
Makes: 1 Heart-Shaped Cake (4.5×4.5)
Ingredients:
Cakes
1 box (200g) Maya Party Cupcake Mix
1 sachet (27g) Nescafe Creamy Latte
2 tbsp. Canola Oil
½ cup Water
1 medium Egg at room temperature
Frosting:
½ cup Frosty Whip Cream Powder
1/4 cup chilled Nescafe Creamy Latte (1 sachet Nescafe Creamy Latte dissolved in 3/4 cup hot water & chilled.)
Toppings:
1-2 tbsp. Dark Chocolate Bits
5 pcs. mini-chocolate, homemade or store bought (optional)
2 tbsp. caramel syrup (optional)
You Also Need:
1 (6-inch) cake board
1 box (5.5×5.5×4) PreFormed White Box (optional for business idea only)
Check out Video Recipe:

Procedure:
Let's prepare our Mocha Cake: Preheat Stove-Top heavy-bottom deep pan or any similar cooking ware over medium heat for about 5 minutes. Just add enough salt or sand to cover the entire bottom of your pan to help stabilize the heat evenly (this is needed if you're using a heavy bottom pan). Place fitted wire rack in the center and cover with a lid. The lid hole should be sealed with a foil so the heat can't escape.
Line 7x7x2 square pan with parchment paper or 6×2 round pan. Mix all ingredients until smooth, at least 25 strokes or less, do not over mix according to package direction. Pour the batter into the baking pan and lightly bang on the table a couple times, to get rid air bubbles.
Cook the cake in a preheated casserole for about 23-25 minutes, cooking time varies depending on your baking pan. Keep an eye on your cake coz' we may have different kinds of stove and the heat varies. To check, insert wooden stick in the center and if comes out clean or a few moist crumbs, it's done. Fire off, let it cool completely on a wire rack and chill at least an hour before frosting.
Let's prepare our Whipped Cream Frosting: I'm using ½ cup of Frosty Whip Cream Powder and to that we are going to add ¼ cups of cold creamy latte Coffee. (1 sachet Nescafe Creamy Latte dissolved in 1 cup Hot water and chilled.) All we need is Moistened the cream powder first before whipping. When it's fully whipped and aerated, it's done and ready to use.
Let's Assemble & Frost our Cake: Since, we're going to make another Valentine's Day Cake, of course we want a heart-shaped cake. So, I'm going to use my heart-shaped cutter. Cut the cake with the cutter to make 2 pieces, trim the top of your cake to level. In a cake board, put a little whipped cream in the center, this will help your cake stay in place. Arrange the cake in the center of your cake board and mousse ring. Put ¼ of whipped cream and top with the remaining cake. Adjust the mousse ring if needed. Add another ¼ part of whipped cream frosting on the top and spread it evenly. Take off the mouse ring and chill your cake for at least 30 minutes. Frost the sides of your cake and pipe some swirls on top. Decorate with mini-chocolates if you like and refrigerate. Serve and Enjoy!
Here's Our Simple Ingredients: A box of Sharon Party Cupcake Mix from Maya, Nescafe Creamy Latte, Egg, Oil and Water. If you have a good sponge or chiffon cake recipe that would be a perfect cake base. You can substitute milk for water and a melted butter for oil, if you want a super moist and buttery cake.
This time, I'm using a 7x7x2 Square Baking Pan, you can use any similar pan, as long as your pan will fit in your Stove-top Casserole or Steamer. This is the smallest round pan, I have at the moment and it's perfectly fit for this recipe. You can also use 6 inch round pan, just be resourceful of what you have.
Here's our Whipped Cream Frosting Ingredients: Of course, our trusted Frosty Whip Cream Powder. A box of Frosty Whip is (200g = 1½ cups) all we need is ½ cup of Frosty Whip and a cold Nescafe creamy latte. You can also use this to brush your cake, to make it moist.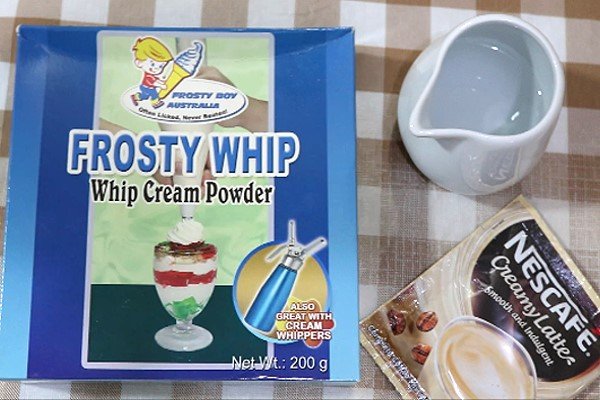 I made mocha chocolate for toppings, I use 1 (35g) Goya White Chocolate bar + 1/4 tsp instant coffee powder. Microwave for 30 seconds and stir until melted completely, pour into your chocolate molder and let it set. You can also use any store bought chocolates you want.
There you have it! A delicious, beautiful and fancy looking Valentine's Day Cake, a perfect treat for your loved ones and friends. This Mocha Cake is a perfect gift for coffee lovers, like my husband 🙂 Actually, He loves it, it has a subtle taste of mocha because I use Nescafe Creamy Latte, but if you want a strong mocha taste use the Original Nescafe. My other two favorites 3-in-1 coffee are the Great Taste Caramel and Kopiko Cappucino.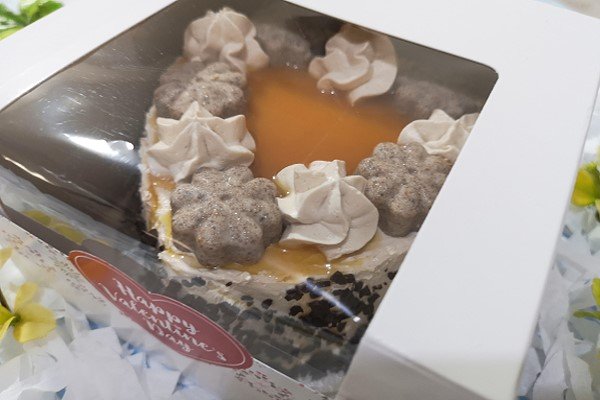 For cake packaging idea, please check our Valentines Strawberry Cake recipe, I have a short info where I got my cake essentials.
And we're done with our second valentines cake recipe that will inspire you to create and design your own. It's always been a hassle free for me and a time saver, that's why I always love to use a cake mix. But of course, you can make your cake from scratch. I hope this recipe could be a perfect idea for your home/online business this coming February 14. Be inspired, keep on creating with new flavors and designs. Thanks for visiting guys and have a blessed and productive week. Hope to see you on my next post 🙂
– oOo –
Life begins after Coffee. If your eyes hurt after you drink coffee, you have to take the spoon out of the cup. – LOL