How to make a super easy and gooey homemade Tikoy
Homemade Tikoy Recipe. This recipe is one of the most popular and lucky food to eat during Chinese Festivals! All I know is, Chinese eat Tikoy during Chinese New Year for good luck. So, we're going to make a super easy homemade original Tikoy. It's a 4-ingredient recipe, all we need is a good quality, well-milled Glutinous Rice Flour, Brown or White Sugar, Water and Vanilla Extract. Just mix all ingredients until it forms a sticky and smooth batter and that's it, off to go for steaming. We only need about 45 minutes of steaming over low medium heat and it's done. It needs to be chilled, sliced, dip in egg wash and fried in a little oil or butter and its' ready to be serve and enjoy with your family!
Red Pineapple Lanterns are hanging everywhere, but not in my place, coz' I'm not a Chinese, but I love to eat fried Tikoy. It was my childhood friend, who introduced me to this sticky Chinese dessert called "Tikoy". That time, She also let me tried mini-pineapple tarts and tiny-oranges. She said, when you eat Tikoy, it brings good luck and strengthen family ties. Good thing, happens to her family, but it didn't work for me. But it didn't make me stop, from liking fried Tikoy, (malay mo mag work!… ha ha – joke lang :P).
Makes: 2 medium Llanera or 1 (6×2) round baking pan
Ingredients:
Tikoy:
½ cup warm water
5 tbsp. refined sugar
2 cups glutinous rice flour "Malagkit"
A pinch of salt
1 tsp vanilla extract
6-8 tbsp water as needed, add 1 tbsp at a time
1 tbsp oil, for greasing
You also Need:
2 medium Llanera
2 (6×8) aluminium foil, use to cover your Llanera
A steamer with at least 1.5 liters of water
To Fry you need Eggwash:
1 large egg, beaten
1 tbsp. fresh milk
½ tsp. vanilla extract
¼ cup desiccated coconut, (optional)
¼ cup canola oil, for frying
Check out Video Recipe:

Procedure:
Let's prepare our Steamer & Llanera: add 1.5 liter of water into your steamer and preheat over low medium heat. Grease both Llanera with generous oil, make sure to grease it completely to avoid Tikoy from sticking later on, set aside.
Let's make our Tikoy Batter: First, we need to warm ½ cup of water in a microwave. Add sugar, stir until fully dissolved and let it cool down to room temperature. In a bowl, combine glutinous rice flour and a pinch of salt. Pour in the sugar syrup and add vanilla extract and mix. Add 1 tablespoon of water one at a time, until you reach a thick batter. Continue mixing until glutinous batter becomes smooth and shiny. (I add about 6 tablespoons of water to achieve the consistency that I want.) Divide glutinous batter into (2) greased Llaneras, shake the Llanera lightly to flatten the batter. We also need to grease our aluminium foil with oil, to avoid tikoy from sticking.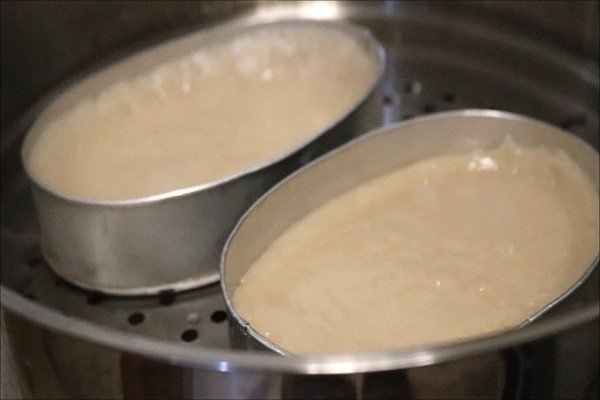 Let's Steam our Tikoy: Arrange Llaneras in a preheated steamer and cover with a lid. We're going to steam our Tikoy for about 40-45 minutes. Our Tikoy is cooked through when the batter looks shinny and it doesn't stick much on the sides of our Llanera. Fire off, take it out from the steamer and let it cool down. Chill for about 8 hours or overnight. Then, our tikoy is ready to dip in an egg wash and fry!
Let's Fry our Tikoy: First, you need to slice tikoy according to the size or shape you want. Since we mold our Tikoy in Llanera, I cut it into strips. It's better to put oil in your knife, for easy cutting. In a small bowl, mix egg, milk and vanilla extract and beat lightly. Dip sliced Tikoy in egg wash and fry in hot oil, over low heat. If you have desiccated coconut, you can coat your tikoy after egg wash, and then, fry it until lightly brown. Drain fried Tikoy in tissue paper and serve.
Here's Our Simple Ingredients: Glutinous Rice Flour also known as "Malagkit Rice", Water, Sugar and Vailla Extract. I'm using, a Peotraco brand, with a high quality, well-milled glutinous powdered, you can buy this at any leading supermarkets. It is sold by ½ kilo per pack for only P50.00, a ½ kilo is approximately 4 cups. You can also use the brown or wash sugar, for this recipe.
At first, I taught making Tikoy is so hard and complicated but, not until I tried this recipe. This recipe is close enough to the Tikoy we often bought at the Supermarket Stall, during Chinese New Year. The only difference that I noticed is, store-bought Tikoy are super shinny and mine isn't. Maybe they use or add corn syrup instead of refined sugar?? Or maybe, they brush it with oil after steaming?! Idk, but I think so 🙂 But I can assure you this recipe is perfectly great and easy to make.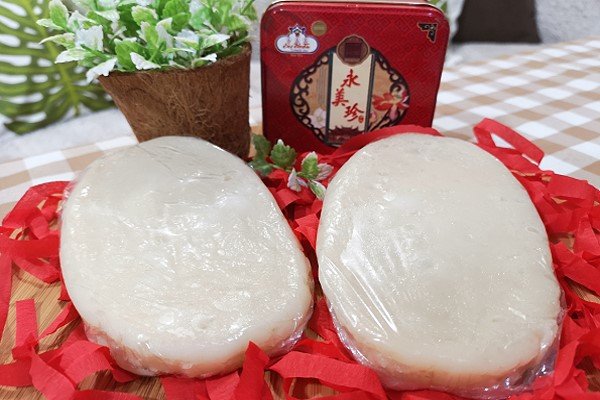 This simple and easy to make Original Flavor Tikoy, will be your next food business during Chinese New Year. You can also make this as a gift to your family and friends during this holiday season. With this simple base Tikoy recipe, you can create flavored Tikoy, such as Pandan, Ube and many more.
– oOo –
"Wishing You Happiness, Prosperity and Longevity…" Happy Chinese New Year!!