How to make Suman sa Lihiya Recipe.
Suman sa Lihiya Recipe. Suman is one of the most popular sweet sticky rice cake, a favorite meryenda here in the Philippines. The basic ingredients to make a suman are glutinous rice, coconut milk, brown sugar, lye and wrapped in banana leaves. This kakanin are cooked either by steaming or boiling in a big pot, a bit time consuming to prepare but gives a sweet and comforting reward. There are numerous varieties of suman, with almost every town are having their own specialty.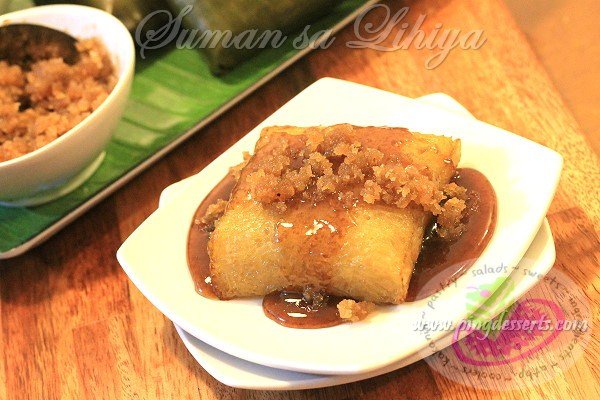 Suman sa Lihiya Ingredients:
2½ cups glutinous rice
3 cups of water
2 tbsp. lye solution
a pinch of salt
oil, for brushing
Banana leaves, wilted for wrapping
String, (optional)
Coconut Sauce:
1½ cup coconut milk
1 cup dark brown sugar
Cooking Procedure:
Soaked Glutinous Rice for an hour or you can just wash and rinse the glutinous rice 4 times using a strainer and place in a bowl. Add lye solution and salt and mix it thoroughly. In a big saucepan pour 3 cups of water and bring to a boil, then add the glutinous rice mixture. Transfer the gas mark to low heat and stir continuously for about 20 minutes. Transfer under cooked suman on a platter and scatter evenly to cool down faster.
Meanwhile, in a saucepan combine the coconut milk and brown sugar over low heat and stir occasionally until mixture becomes thick and syrupy. Turn off the heat and let the syrup cools down at room temperature.
Brush wilted banana leaf with oil lightly to avoid suman mixture from sticking. Place a desired portion of sticky rice onto the banana on a greased side, cover, roll and fold both ends towards the center and tightly secure it with a string if using one. Or you can wrap the way you want either rectangular, triangle or square, using your signature wrapping skills. This recipe can yield a dozen of suman. Â Suman needs to be wrapped tightly to avoid leakage when steaming.
Put in a preheated steamer with boiling water over medium heat. Arrange suman in layers by placing the folded edges side down, top with another layer and steam for about an hour or so until sticky rice are fully cooked. Serve suman sa lihiya with prepared coconut sauce or store bought sweetened coconut.
.
.
Suman sa Lihiya comes from Batangas region, in which they soaked glutinous rice mixed in coconut milk or water with lye solution, wrapped in banana leaves, steamed until cooked and serve with coconut syrup or latik.
.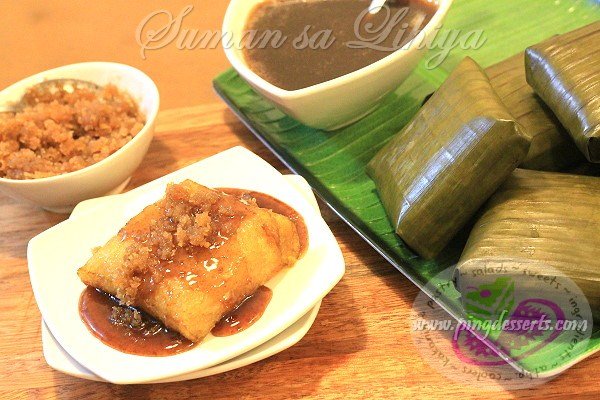 .
Here in Bacolod City our native Suman is wrapped in palm leaves and flavoured with a little hint of fresh ginger instead of lye and we call it "Suman sa Ibus" serve with sprinkled sugar. And the other one is "Suman Latik" wrapped in banana leaves in rectangle shape and top with latik.
.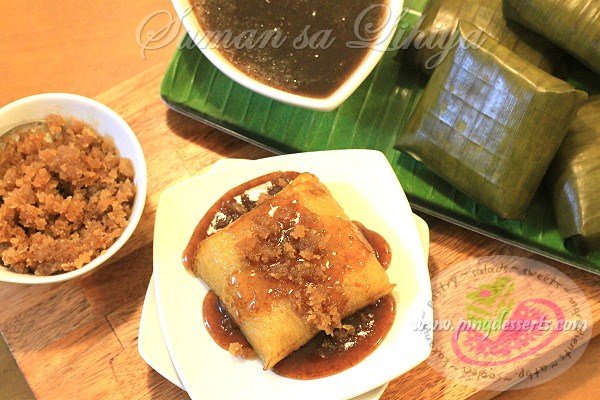 .
Mostly Suman are wrapped in banana leaves because not only it is the cheapest indigenous materials but it gives a distinct yellow color and a very nice aroma. Suman can be served warm or at room temperature with coconut syrup and latik. My friend used to fry them serve with chocolate syrup and fresh mango for breakfast.
.