How to make a delicious and super moist Caramel Bread Pudding Recipe.
Caramel Bread Pudding Recipe A Popular Filipino merienda that everybody loves, so here's my new bread pudding with caramel syrup and almonds. This recipe is a great idea to salvage leftover breads. This pudding is made of stale bread cut into cubes, then, soaked in a light caramel-custard mixture. Which is made from eggs, sugar, milk, butter, caramel and vanilla extract. Tossed with some dried raisins and almond slices and finish with a generous drizzle of caramel syrup on top.
Makes: 24 slices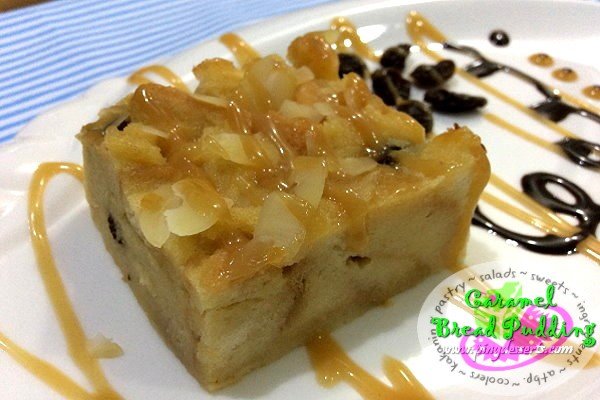 Ingredients:
1 pack large slice bread, cubes
1/3 cup raisins
1 stick butter, melted
4 medium eggs @ room temp.
3/4 cups refine sugar
a pinch of salt
2½ cups Evaporated or Fresh Milk
½ cup caramel syrup, + extra to drizzle on top (homemade or store bought)
2 tsp. vanilla or 1½ tsp. almond extract
1/8 cup almond slices (optional)
Procedure:
Prepare an ungreased rectangular 13x9x2.5 baking pan. Slice loaf bread into small cubes or any leftover bread and place the bread in the baking pan. Add raisins and scattered from side to side generously and set aside. In a saucepan, heat the butter on a low heat until light brown and let it cool. Or you can simple microwave the butter, pulse in 1 minute and let it cool.

Meanwhile, In a large deep mixing bowl, combine eggs, sugar and salt and whisk until sugar dissolves. Pour in melted butter, milk, caramel syrup and vanilla or almond extract. Whisk until the mixture is well combined.
Pour custard mixture into the baking pan and let the bread soaked for 30 minutes. Preheat the oven at 350F for at least 15 minutes. With a spoon or spatula lightly press down the bread mixture evenly at the bottom of the pan. Add almond slices on top and drizzle with extra caramel syrup.

Bake the pudding for about 35-38 minutes, or until golden brown. Remove from the oven and let it cool slightly. Bread Pudding is best eaten while its warm but some prefer at room temp. Drizzle Caramel Syrup on top and serve.
– oOo –
Here's our ingredients : A good quality Loaf Bread (thank you very much "Pan de Sal Express Bakery" for sharing your tasty bread with Us), Butter, Eggs, Sugar, Milk, Caramel Syrup (store bought or homemade), Vanilla Extract or Almond Extract, Raisins and Almond Slices.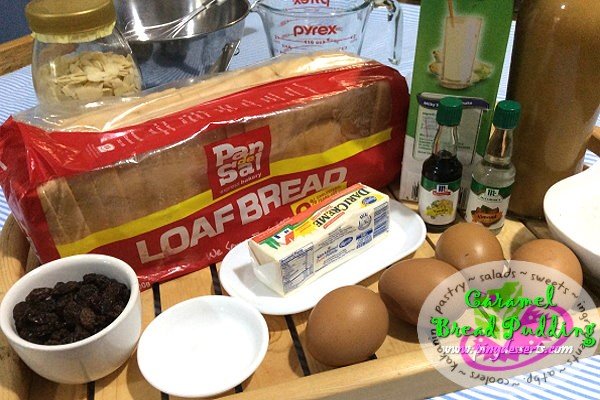 Bread Pudding becomes a big hit in bakeries and even baker Moms at home. The best thing about this pudding recipe is that you can add anything you like, such as chocolates, nuts or dried fruits. A delicious and affordable "pack and go" recipe to prepare, especially on family gatherings.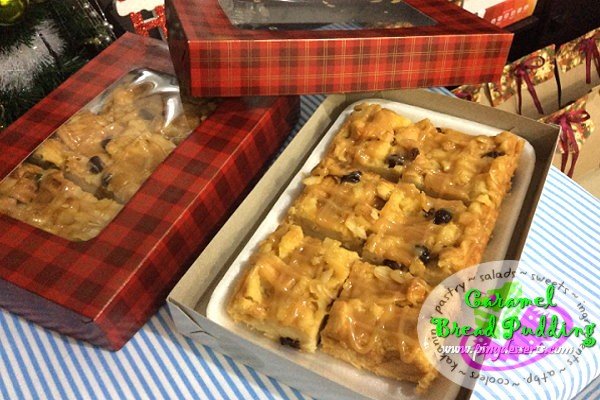 An all time Pinoy favorite merienda, serve with a hot coffee or cold soft drink. This recipe can yield about 24 slices (2.25 x 2.25 inches) of puddings. A perfect Christmas Gift to share with your family and friends. You can either place it in mini boxes like this and tie it with a string or ribbons or you can simply store it in an airtight plastic container. Store and refrigerate bread pudding to last for a week. You can reheat them anytime you want.
Thanks for visiting and have a nice day everyone 🙂
– oOo –
A balanced diet is having a Caramel Bread Pudding in each hand. LOL