How to cook Meringue Cookies Recipe.
Meringue Cookies Recipe. Filipino famous pasalubong sweets Meringue Cookies. Light, sweet, crisp and airy that they seem to almost melt in your mouth. Made with beaten egg whites, and baked. These meringue cookies are also known as Easter cookies.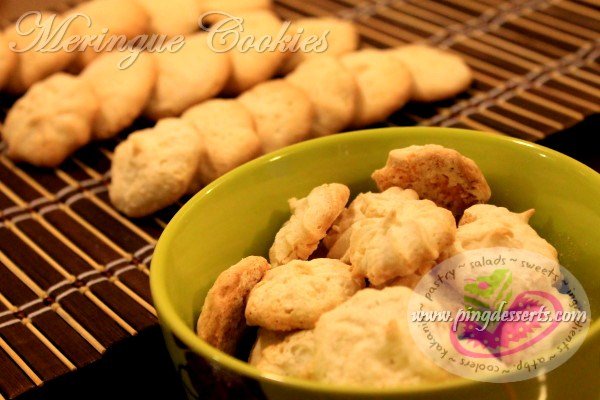 Meringue Cookies Ingredients:
3/4 cup flour
1/4 tsp. baking powder
4 egg whites
1 cup sugar
1/4 tsp. cream of tartar
1 tsp. lemon zest
Meringue Cookies Procedure:
Preheat the oven to 190C (375F). Sift together flour and baking powder then set aside. Beat egg whites and cream of tartar until they are slightly stiff. Gradually add the sugar and continue beating until stiff peaks form. Fold into flour mixture to form a batter and add the lemon zest.
Pipe small circles of batter onto greased and floured baking trays. Bake in a preheated oven for about 8-12 minutes or until top of the cookies become light brown. Loosen immediately from the baking trays so that cookies don't stick. Let it cool and serve or store in airtight containers.
…..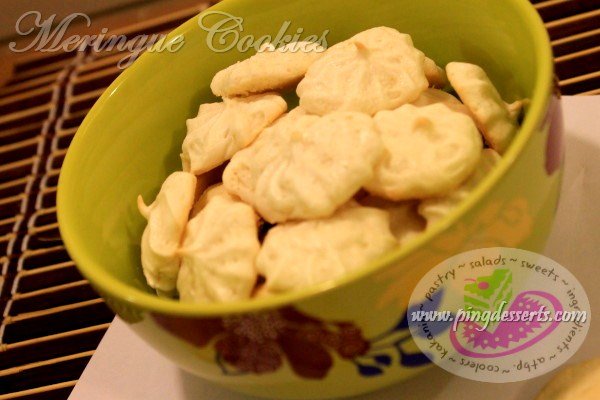 Easy to make meringue cookies.