How to prepare Filipino Fruit Salad Recipe.
Fruit Salad Recipe A Filipino classic salad recipe so delicious, juicy and fruity with nata de coco and kaong dressed in sweetened condensed milk and nestle cream. This salad is always serve chilled and it has so many versions yet so easy and simple to prepare. You can add any fruits in season coz it's a bit cheaper and fresh than frozen and the canned ones. Fruit salad dessert is very famous and always present in all occasions.
Fruit Salad Ingredients:
1 med. can Fruit Cocktail, drained
1 cup nata de coco, drained
½ cup kaong, drained
1 sm. apple, chopped
½ cup condensed milk
¾ cup Nestle Cream
½ Cheddar cheese, cubes (optional)
Fruit Salad Cooking Instructions:
Drain the syrup form your fruit cocktail, kaong and nata de coco. You can dry them by mixing them all together in a strainer and leaving them there for a few minutes to drain any excess syrup. Chop small red juicy apple and add in the fruit cocktail. Place the drained fruit cocktails, kaong and nata de coco in a large mixing bowl. Add the condensed milk, Nestle cream and then the cubed cheddar cheese, if using one. Mix them all together until everything is evenly blended. Place in the fridge and chill for 30 minutes. Then serve and enjoy!
. . .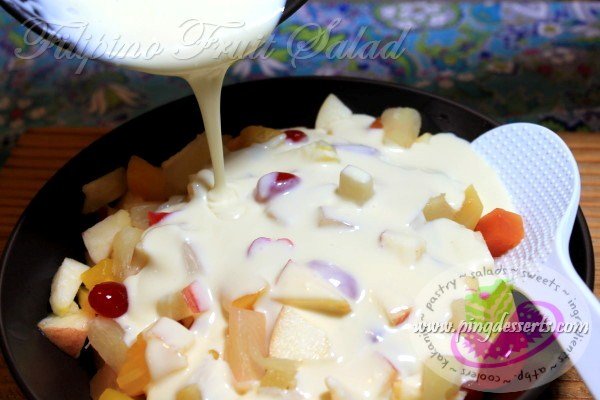 A delicious Fruit Salad treat . . .
so sweet and indulging!