How to prepare Buko Pandan Pearl Coolers Recipe.
Buko Pandan Pearl Coolers Recipe Pandan pearls is a jelly balls made from a gelatin powdered and infuse in pandan leaves that gives a floral fragrance, it's been cooked, chilled and cut using fruit baller to look like a pearl. Since it's a Buko shake cooler I used real buko juice that I frozen earlier instead of using a regular ice cubes in this recipe. It's another way to make summer more fun and refreshing, try it!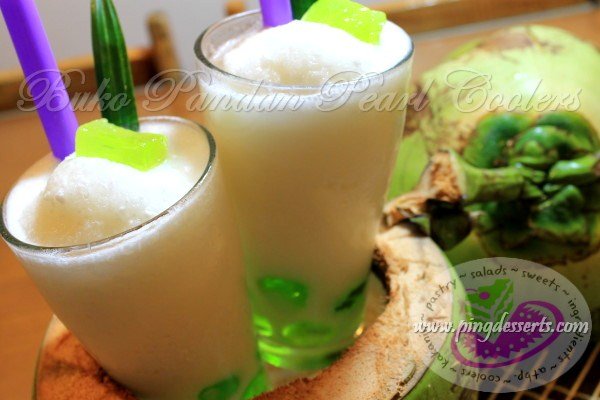 Buko Pandan Pearl Coolers Ingredients:
1¾ cups water
1 pack unflavoured gelatin powder, green
1 tsp. pandan essence
2 cups buko juice, iced
½ cup fresh milk
¼ cup refine sugar
1 tsp salt
1 cup buko meat
2 scoops vanilla ice cream
Toasted pinipig, (optional)
Pandan leaves, to decorate
Prep:
Pour 2 cups of buko juice in an ice cube container and freeze for about an hour until frozen. Cook unflavoured gelatin powder according to package direction (hence that the water varies depends on the brand of gelatin you are using) and add pandan essence and stir to mix well. Pour into a container and allow to set in the refrigerator for about 20 minutes.
Cut pandan jelly into small cubes or big pearls by using the fruit baller. Put the buko ice cubes in the blender add fresh milk, sugar, salt, buko meat and vanilla ice cream together and pulse to crushed the ice cubes. Put the pandan jelly on the bottom of the glass and pour the pandan shake. Serve with straw and decorate with pandan leaves.
. . .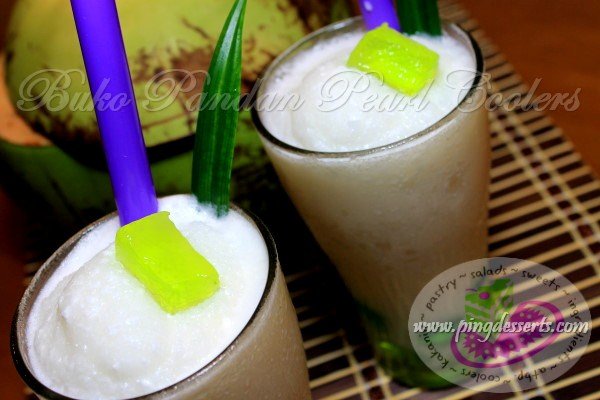 Buko Pandan Pearl Coolers
Got no toasted Pinipig available right now but you can put any toppings you like, try Barquillos 🙂