How to prepare Buko Juice or Coconut Juice Recipe.
Buko Juice or Coconut Juice Recipe, Coconut or Buko juice is another Filipinos favourite drink, a refreshing juice with a sweet white meat. Coconut juice has a huge health benefits and it is very affordable.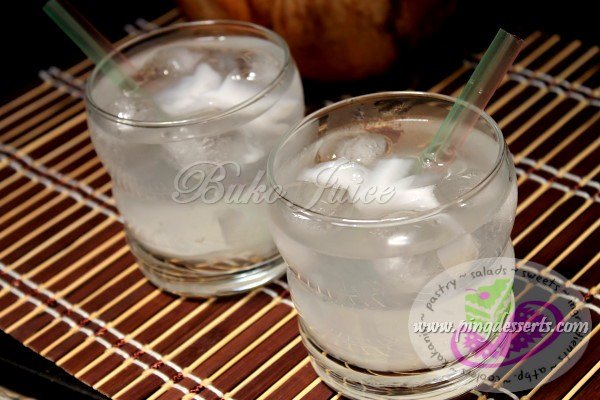 Buko or Coconut Juice Ingredients:
2 young coconuts
ice cubes
coconut meat
2 tbsp. sugar, (optional)
Coconut or Buko Juice Instructions:
Prepare 2 young coconuts that are already cracked and clean by coconut vendor. Pour coconut/buko juice through a strainer into a glass to get rid any particles. Scrap coconut/buko meat with a spoon from the shell and add in the juice.

Stir in sugar if you're using one and add ice cubes and serve with straw.
…….
You can drink it from the nut and enjoy scrapping the sweet coconut meat with your straw. . .
…….