How to make a simple and easy Potato Salad.
A Classic Potato Salad Recipe that I got from Lady's Choice Mayonnaise. This simple potato salad is delicious, creamy and a hearty salad. This salad is made with boiled potatoes, carrots, pineapple, ham and coat in a mustard-mayo dressing that complements well with the potatoes. A simple and delicious salad to prepare this coming Holiday season that will satisfy your family and guest. This Potato Salad can be eaten and delicious on its own. You can also add some lettuce if you like, but mostly in restaurants they serve potato salad as a side dish for their Back Ribs, Steaks and other grilled meats. Potato Salad is a versatile dish, it can be serve as an appetizer, side dish and a meryenda to satisfy your hungry tummy.
Serves 8
Salad Ingredients:
5 medium potatoes, peeled and cubed (about 5-6 cups)
½ cup carrots, peeled and diced
1 cup pineapple chunks, drained
1 cup cooked Ham, diced
1-2 tbsp. scallions, minced
Mustard-Mayo Dressing:
1½ cups mayonnaise (I used Lite Mayo from Lady's Choice)
1-2 tsp. mustard
1 tsp. honey
¼ tsp paprika
Salt and white pepper, to taste
Lettuce, to serve (optional)
Cooking Procedure:
In a deep pot, boil cubed potatoes in salted water for about 5 minutes and add diced carrots and simmer until tender and almost cooked through don't over cooked your potatoes. Drain and let it cool completely or you can chill it in the fridge for about 10 minutes. Add pineapple chunks, diced ham and scallions into your potatoes and set aside.

Meanwhile, in a separate bowl we're going to mix our dressing. Combine mayonnaise, mustard, honey, paprika and season with salt and white pepper and mix until well blended. Taste test your seasoning according to your taste before adding into your potato salad. Add the mustard-mayo dressing gradually to your salad and mix them to coat evenly or you can add them all at once if you want a heavy dressing.
A simple tips for you guys, when you mix the dressing into the salad and it calls for a little salt, you can add more but if you have some parmesan cheese go for it, like what I did and it turns out great. Mix your potato salad until blended and cover the bowl with plastic wrap and chill for at least 4 hours before serving. Serve chilled with fresh lettuce if you like and enjoy your potato salad.
.
Here's the ingredients for our potato salad shown in the photo at the bottom. You can replace the ham with chicken if you don't have one. In this recipe I used Lite Mayonnaise to cut off some calories and fat content but you can always use your favorite mayonnaise.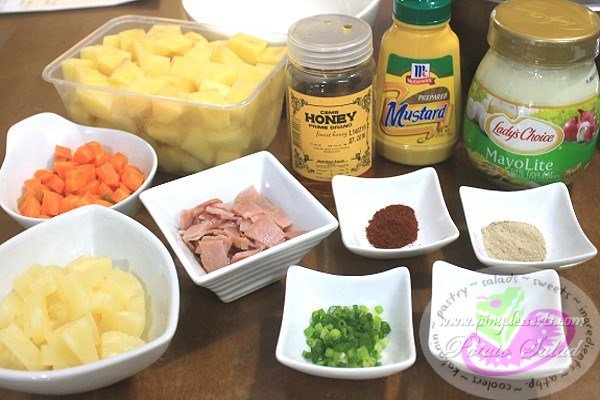 Some potato salad recipe has minced pickles, onions and chopped hard boiled eggs. And It's really up to you if you prefer to add those ingredients, actually my Aunt use to add some diced pears on Her potato salad. Anyway, it's all about making good food, experimenting and sharing it with our loved ones.
This recipe can serve 8 so if you're planning for a big get together just double the recipe. You can store potato salad in a covered container and refrigerate. This delicious potato salad will last for 3-4 days only even if it's in the fridge.
.
.
You cannot freeze this salad because it will become watery. And don't leave the potato salad at room temperature for more than 2 hours, always refrigerate any leftovers because mayonnaise spoils easily . Hope you try this simple and delicious potato salad, can't wait to eat this thing with pork BBQ 🙂 Until next time, have a blessed day everyone!!!
.