How to make a delicious Pichi Pichi with Cheese.
A Classic Pichi Pichi Recipe – is a Filipino dessert made from Cassava also known as "Kamoteng Kahoy". An all time favourite delicacies which is popular here in the Philippines. This is a Classic Pichi-Pich recipe, very easy to prepare and made from a few ingredients such as grated cassava (fresh or frozen), sugar and water. This kakanin are steamed until becomes translucent and cooked through. The texture of these pichi-pich is very sticky, sweet, soft and serve with grated cheddar cheese on top.
Makes 18 pcs.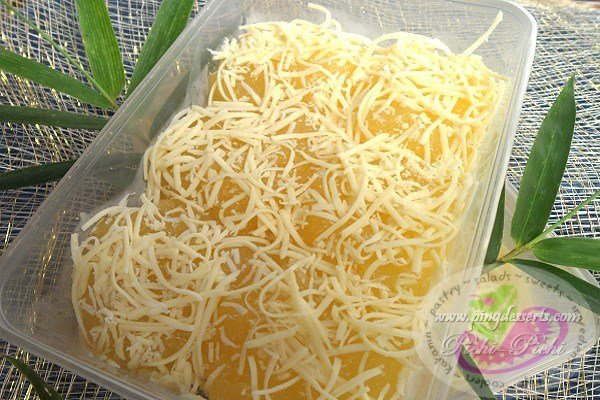 Pichi Pichi Ingredients:
1½ cups grated cassava or frozen cassava thawed
1¼ cups refined sugar
1½ cups water
1 cup grated cheese, for toppings
Cooking Procedure:
Prepare your steamer with 2-2½ liters of water and preheat over medium heat until it boils. If your steamer is too small don't worry just add water from time to time as needed. Lets start preparing in a mixing bowl, combine grated cassava, sugar and water and mix well until sugar dissolved.
Pour the mixture into your prepared pan, I'm using a 9×2 round pan or you can use any similar pan as long as it fits in your steamer. Steam for about 30-35 minutes or until the mixture becomes sticky, translucent and a little bit firm use a toothpick to check the consistency of your pichi pichi.
The steaming period vary depends on the size of your pan, small pan less cooking time than the big ones. It's important to cover your steamer with fitted lid and a clean clothe to catch the water drippings. When you reach your desired consistency you're done, fire off , transfer in a cooling rack and let it cool slightly, before removing from the molds. If you're using a single round pan you can use a couple spoons to scoop out the pichi-pichi. Arrange on a serving tray or plastic container and sprinkle with grated cheese before serving.
.
Here's a few ingredients to make a delightful pichi pichi with cheese. All you need is a grated cassava, sugar, a water and grated cheese.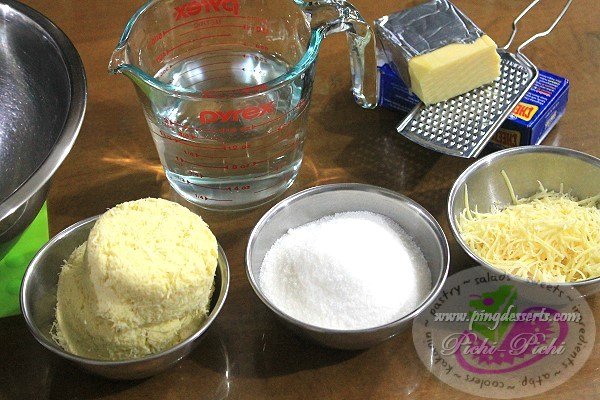 Whenever my Tatay visit us here in Bacolod He always bring us fruits, vegetables, root crops, rice and even live native chicken lol… or whatever He harvests on the farm that day. He has a small garden of root crops, sometimes He plants cassava, sweet potatoes and taro . And I remember my Nanay used to cook cassava by simply boiling it in coconut milk, sugar and a little margarine and serve it as our meryenda. Her simple way of preparing cassava has been always a tasty snack and the best cassava for us.
What I have here today is Cassava! Tapioca! Yuca! …… in short Kamoteng Kahoy na halin sa Uma 🙂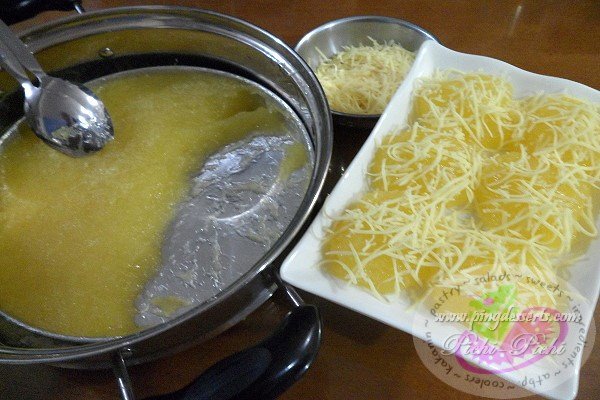 Every time I have a fresh cassava, I always end up making pichi-pichi the pandan version. And now I made this classic pichi pichi with cheese after reading comments from my previous post and wanted to try their suggestions that cheese is a perfect toppings for this kakanin. So I tried and I like it, it's plain and simple, sweet and salty it's a perfect combination and taste so good.
.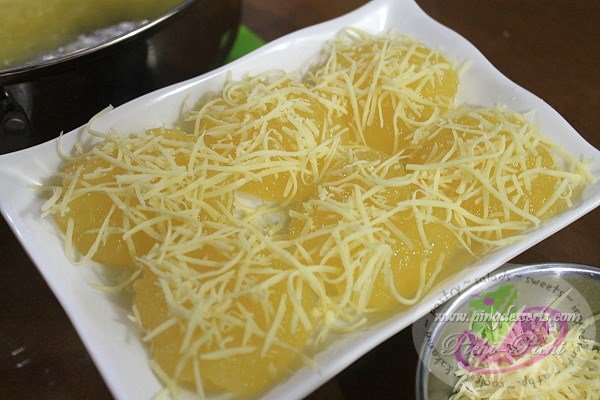 .
This recipe yields 18 pieces of perfect pichi-pichi or you can divide it by six and place it in a plastic container. Or you can place it in a serving tray lined with banana leaves and serve. Leftovers can be store in a clean airtight container and refrigerate. This homemade kakanin will last for a week if stored properly.
.