How to make a creamy and melts-in-your-mouth Ube Leche Flan.
Ube Leche Flan is one of the Filipino delicious custard dessert. It's made from basic flan ingredients like eggs, sugar, condensed, fresh milk, but with a twist of ube flavor that comes from our extract. In this recipe we use egg yolks only, this recipe is not fit business idea. This is very easy to prepare, all we have to do is make a caramel first. Mix all ingredients and divide into Llanera's and steam for about half an hour and refrigerate. This sweet and creamy Ube Leche Flan is best serve when it's cold.
Makes: 3 Medium Llanera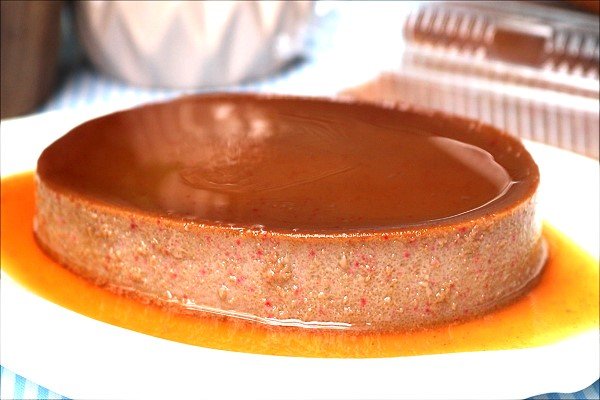 Ingredients:
Custard:
8 large egg yolks
1 can (300ml) Alaska Sweetened Condensed Milk
1 can (370ml) Alaska Evaporated Milk
1-2 tbsp. Ube Powder
1-2 drops of violet foor color (optional)
Caramel:
6 tbsp. Sugar (2 tbsp. for each Llanera)
You Also Need:
3 medium Llanera & Foil to cover
Check out Video Recipe:

Procedure:
For the Caramel: divide sugar into 3 medium Llanera's about 2 tbsp. each. Heat Llanera with sugar over low heat until sugar turns into honey color or golden brown. Let it cool, repeat process until done with 3 and set aside until needed.
Prepare Steamer: Bring 1.5 liters of water into a boil and turn heat to low. If you don't have an aluminium foil to cover the Llanera, make sure you cover the Lid with a cloth to catch all the water drippings. We don't want our Leche Flan to become watery.
For the Custard: In a mixing bowl, combine egg yolks, condensed milk, evaporated milk and mix well. Add Ube powder mix well, at this point you can add violet food coloring if needed. (You can also use 1 tbsp. Ube extract or ¼ cup Ube Halaya). Strain custard mixture at least twice and divide into3 prepared Llanera's. Cover with an aluminium foil and steam over low heat for about 25-30 minutes.
To make sure it's cooked, make a test, insert bamboo skewer in the center if it comes out clean, fire off. Transfer to a cooling rack and let it cool completely. Refrigerate Leche Flan to firm a little bit and for easy transfer later on. Run a knife at the edge of Llanera and flip your Flan on a serving plate or plastic container. Serve and Enjoy!
Creamy Ube Leche Flan
Here's our simple ingredients : Fresh Eggs, Alaska Sweetened Condensed Milk, Alaska Evaporated Milk, Refined Sugar, Ube Powder. You can also use Ube Extract or Ube Halaya if you want, and feel free to use any brands of milk.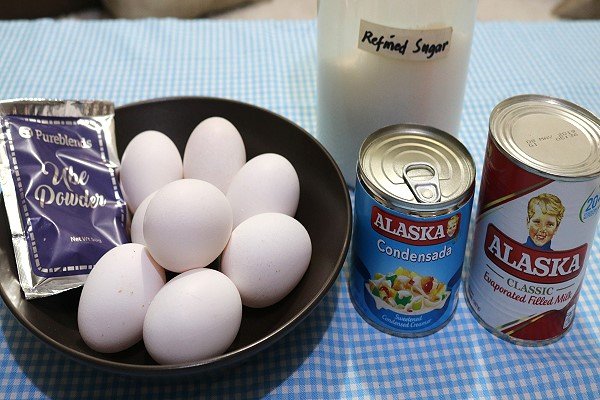 This Ube Leche Flan is perfect for any occasions, especially at Kid's party since this recipe it too sweet. If you're conscious about your blood sugar, please don't try this recipe your sugar level will shoot up LOL… To all the Purple Yam Lover's, here's a perfect Leche Flan for you to try and enjoy!
If you're planning to make a business, try this recipe, but use whole eggs instead. The taste will be a little less sweet and the texture will be a little bit firmer. The taste will be the same delicious, sweet and creamy. If you consider selling these, you can use a clear view plastic container. To store, keep your Leche Flan refrigerated, this will last up to 2 weeks in the fridge. But I'm sure this will last in less than 10 minutes after you serve… 😛
Thanks for visiting guys, and hope to see you on my next post. Have a blessed week and a prosperous Merry! Merry! weekend. Happy Holidays! Ho Ho Ho
– oOo –
When Life gives you Lemons, squirt Someone in the eye and run for your life… ha ha
We also recommend these: