How to make a sweet and refreshing shaved ice drink.
Ice Scramble – Is a classic Filipino street food, drink and one of the most favorite and affordable treats during summertime. Ice Scramble is made of shaved ice, skim milk, sugar, banana extract dye in pink food coloring and top with powdered milk, chocolate syrup. But nowadays, Ice Scramble looks more fancy with different added toppings like mini-marshmallows, sprinkles and wafer sticks.
Ice Scramble is also known as "Iskrambol" here in the Philippines. It is a very popular go to frozen dessert amongst student not only because it's cheap & simple but it's so good. Ice Scramble vendors usually park their colorful Bicycle Carts in front of the school entrance and exit gates where it's very accessible to students & other customers. It is commonly stored in ice bucket and served in a small clear plastic cup with colored plastic spoons. And, today we're going to recreate our childhood favorite frozen dessert. So, let's start…
Makes: 5-6 (6oz.) plastic cup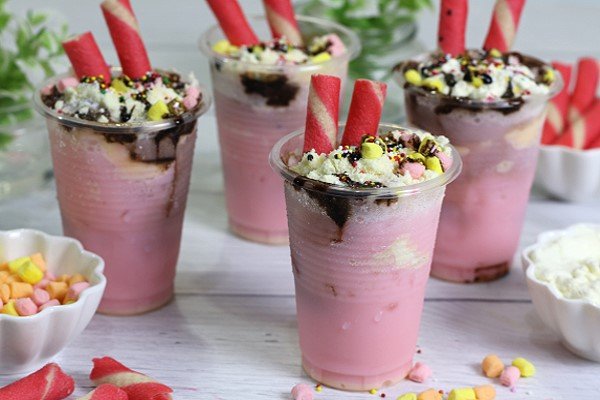 Ingredients:
Ice Scramble Base:
4 cups shaved ice
1 cup skim powdered milk
¼ cup wash sugar
½ tsp banana extract
A drops of red/pink food color gel
Toppings:
¼ cup skim powdered milk
¼ cup colored mini-marshmallows
1 tbsp. colored sprinkles (optional)
6 pcs. wafer sticks, halves (optional)
2 tbsp. chocolate syrup
You also Need:
6 pcs. 6oz. plastic cups
6 pcs. mini-plastic spoons
Check out Video Recipe:

Procedure:
First, prepare crushed or shaved ice at least 1 cup more as needed. Crushed ice melts easily make sure to keep it in the freezer until needed. A perfect vessel in mixing and storing Ice Scramble is an Ice Bucket, that's the easy and right way to do it. If you have ice bucket you are lucky, use it when preparing this 🙂
In a mixing bowl with crushed/shaved ice, add skim milk and mix lightly but quickly as possible. Add wash sugar, banana extract and food coloring and mix until well blended.
Ladle Ice Scramble into a plastic cup about half full, top with powdered milk and put another layer of ice scramble, top with powdered milk, marshmallows, sprinkles, wafer sticks and drizzle with chocolate syrup and serve immediately with a spoon.
I hope you find this frozen drink easy to make and please do try our Ice Scramble recipe. Believe me its creamy, sweet and delicious. If you don't have skim milk powder don't worry, you can use full-cream powdered milk instead. Wafer sticks and sprinkles are optional, but the banana extract is a must for this recipe.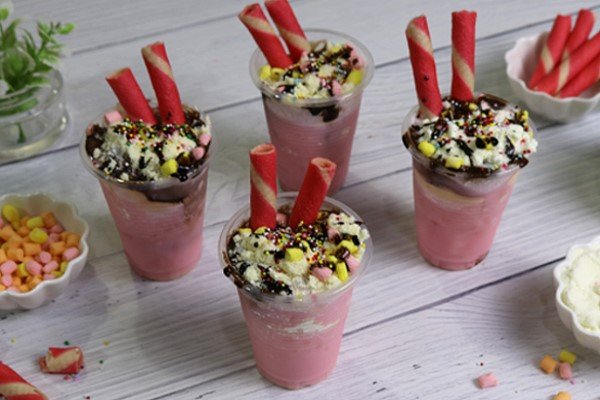 This recipe is for personal consumption use only and makes 6 small cups only. If you're planning on making this as your part time summer business. I highly suggest that you should invest in buying an ice bucket, bulk skim milk at the local market it's cheaper than full-cream powdered milk at the grocery stores. Buy the banana syrup in large plastic bottles instead of banana extract or essence.
So there you have it guys, another cool treats to make and enjoy this summer. Thanks for visiting guys and hope to see you on my next post. God bless us all, bye xo
– oOo –
If You ever get Caught Sleeping at Work, just Slowly Raise Your Head
and say "In Jesus Name I pray" Amen. – LOL