Boracay's famous and delicious bestseller's frozen dessert treats.
Coco Mama with Mango Recipe – is one of the most favorite frozen dessert treats in Boracay. Coco Mama ice cream is literally served on a coconut Shell, with fresh coconut strips, sweet juicy mango top with sticky and creamy purple glutinous rice and sprinkle with crunchy bits of toasted pinipig.
Coco Mama uses pure coconut cream, it's a Non-Dairy Coconut Ice Cream and super creamy, soft and it doesn't melt easily. Superb! Is the best and right word to describe their Ice Cream. It's really similar to a soft served ice cream, but with a thicker consistency, oh yummy goodness in every bite! Store-bought ice cream is obviously commercially made and melts easily, but plain Macapuno Ice Cream is a good alternative for this dessert if you're craving for a Coco Mama. (Did I mention cravings? coz' I do…LOL) So, we're going to recreate Boracay's famous Coco Mama with Mango. So let's start…
Makes: 2
Ingredients:
2 medium young coconut in shell, cut in half
4 scoops non-dairy coconut ice cream or macapuno ice cream
1 medium ripe mango, cut into cubes
2 tbsps. purple sticky rice, cooked in coconut cream
1 tbsp. pinipig, toasted
Check out Video Recipe:

Procedure:
For the Crispy Toppings: We need: 2 tablespoons of pinipig. In a small saucepan over low heat, toast Pinipig until lightly brown. Keep on tossing, this doesn't take long to toast, so please keep an eye on it. Fire off, let it cool completely before using. (rice krispues, slivered almonds, roughly crushed cashews or dried coconut flakes are the perfect substitutes.)
For the Purple Glutinous Rice: We need: 1/3 cup of Purple or Plain Glutinous Rice soaked in water overnight and drained, 1/2 cup fresh coconut milk, small pandan leaf knot and 2 tablespoons of sugar. In a small pot or saucepan, put coconut milk, pandan leaf, and sugar. Let it simmer and stir constantly for about 8-10 minutes. When the coconut evaporated and the glutinous becomes sticky, check the glutinous rice if it's cooked, (We don't want mushy sticky rice). Fire off, and let it cool down completely before using. (If you can't find purple glutinous rice don't worry, we can add ube extract or violet food color gel, as a substitute. It's up to you, but I prefer ube extract than food color and taste good.)
Let's Prepare and Assemble: Slice ripe mango into cubes and set aside. Now that we have all the ingredients needed to this frozen dessert. Let's Assemble: First, Scrape the young coconut, lightly off the shell, avoid the brown part as possible as you can. Add a couple of scoops of coconut or macapuno ice cream in the center. Add fresh slice mango about 2 tablespoons on each side. Top with creamy and sticky purple glutinous rice and sprinkle with toasted rice krispies or pinipig. Serve immediately and Enjoy!
Coco Mama –Menu and Prices. Coco Mama Stalls are located at d*mall, Station 2 Boracay and there's another one located at the new Hue Hotel Food Court, "Streetmarket" Station-X.
Sadly, on our 1st day we didn't have a chance to try this because the line was very long. There's a bunch of young Chinese and Koreans lining up, but most people don't mind waiting just to get and try this bestseller treat here in Boracay. And luckily, on the 2nd day We manage to try one. It was almost closing time, but yeah, We have it! The Non-Dairy Coconut Ice Cream used for this Coco Mama is superb! 2 Thumbs Up 🙂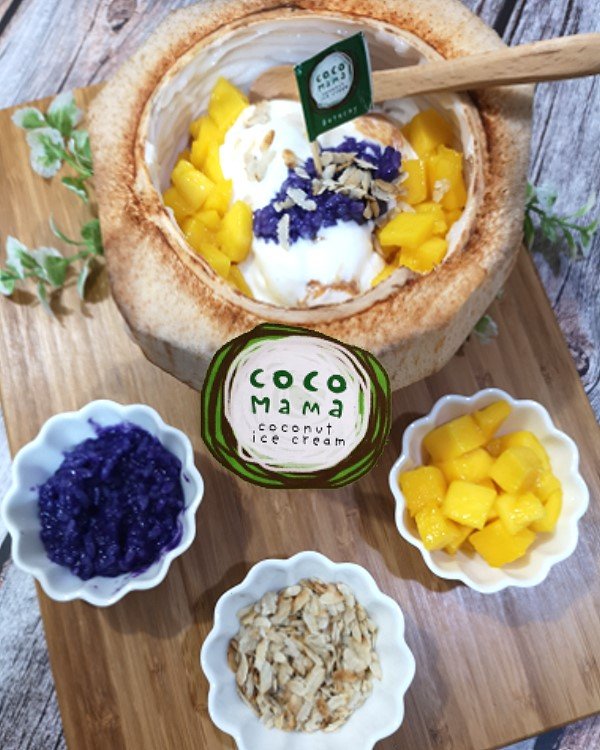 While I was on a road trip going back home, I'm so excited to recreate this recipe and share it with you guys. I hope you like our new and easy to make Boracay's famous summer frozen treat. Since, I bought a half gallon of Macapuno Ice Cream, of course we're going to try more flavor combination inspired by Coco Mama. So, see you on my next post, thanks for visiting guys and have a wonderful week everyone 🙂
– oOo –
Happiness is… eating your ice cream faster than it melts – LOL
– oOo
We're having Fun Under the Sun
Whoever created this improvised pvc pipe swing, thanks Bro you are awesome! I love it… ha ha
The Beauty of Nature is so calming, the strong wind that blows from the stunning Blue Sea is perfect. The birds were chirping up in the tree and you can hear the sound of the leaves playing against the wind it was so cool.
Nature really has its own way of making us feel comfortable, healed, relaxed and happy. How I wish, We can stay a little bit longer here, I don't want to go home yet 🙁 I'm so grateful to have this opportunity to enjoy God's Wonderful Creation. xoxo