How to make a mouth watering frozen dessert Recipe.
Pineapple-Cherry Graham Float Recipe. A delicious Pineapple-Cherry frozen dessert a quick fix recipe to prepare and all you have to do is mix, layer and refrigerate. This cake has a great combination of tangy flavors of the pineapple and cherry pie filling, sweetened with condensed milk and nestle cream that gives a perfect balance of sweetness. A creamy goodness in every slice serve with an extra cherry compote and enjoy. There are lots of versions of this delicious refrigerator cake recipe to try from and this is a perfect one for this holiday season.
Makes 8 – 12 slices
Ingredients:
1 pack (200g) Graham Honey Crackers
2 cans (300g) or 3 packs (250ml) Nestle All-purpose Cream, chilled
1 can (387g) Sweetened Condensed Milk, chilled
1½ cups pineapple chunks, drained and roughly chopped
1 can Cherry Pie Filling, drained and reserved ¼ cup of cherry syrup and ½ cup of cherry compote, to decorate
A pinch of salt
Cooking Procedure:
Drain pineapple chunks and cherry pie filling separately. Chopped pineapple chunks roughly and set aside. Reserved ¼ cup of cherry syrup and another ½ cup of cherry compote for decorating later. Place the drain cherry in a small bowl and mashed lightly with a fork or leave as it is if you prefer a big cherry chunks.
In a large bowl mix together chilled all-purpose cream, condensed milk and reserved cherry syrup and mix well to combine. Add in drained pineapples, cherries and a pinch of salt and mix well to combine. Arrange pieces of graham crackers or ladyfingers to cover the bottom of 8×8 glass pan or 10×8 glass pan or any similar pan you have.

Divide the cream mixture into 3 equal parts, approximately 2 cups. Spread one part of cream mixture on top of the first layer and spread evenly. Arrange another layer of graham crackers or ladyfingers on top of the cream mixture and cover evenly. Then add another cream mixture and spread lightly and evenly, do not put pressure on the layer or it will disarranged.
Arrange the last layer of graham evenly and spread the remaining cream mixture and smoothen the top with a spatula. Crush remaining cracker and sprinkle on top and decorate with the reserved cherry compote and refrigerate for about 6 hours or overnight. Let the cake set completely before you slice, serve and enjoy.
Duncan Hines Cherry Pie Filling and Milkmaid Condensed Milk
.
In this photo I sprinkled the crushed graham on top of my last graham layer. And I add the remaining cream mixture using a ladle to spread the fruit bits evenly and to cover the crumbs without mixing into the cream.
.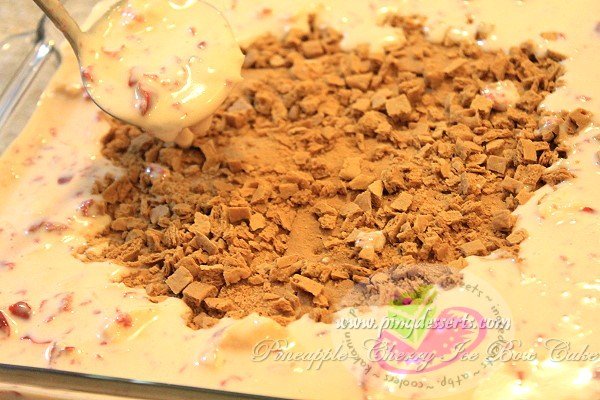 Almost done and I'm ready to refrigerate my beautiful cake. Well it's time to clean up the mess . . .
.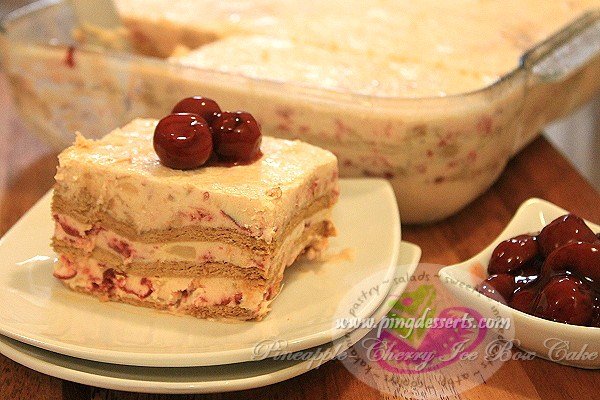 This is what I really wanted to have a smooth and shiny finish on top and serve with cherry compote separately. It's time to taste this mouth-watering and beautiful Pineapple-Cherry Graham Float.
.