A moist and decadent No-Bake Brownie Pizza.
Nips & Wafer Brownie Pizza Recipe. These brownie pizza is fudgy and moist on it's own, but to make it more decadent we top it with chocolate ganache and decorated with chocolate nips, crunchy wafers and chopped white chocolate. This recipe is so easy and quick to prepare, a budget friendly dessert recipe.
These brownies are the perfect idea for kid's birthday party. Using a store-bought brownie mix, it will save us, so much time to prepare, no hassle and we can make this in advance before the party. What I like about this recipe, is that we can create different kinds of brownie pizza. Using this brownie base, there's an endless flavor combination to create. So lets start with our first one…
Makes: 1 (9-inch) Brownie Pizza
Ingredients:
Brownie:
1 box (230g) Sharon fudge brownie mix
¼ cup canola oil
1 medium egg
1 tbsp. water
Toppings:
1/3 cups milk chocolate chips
1½-2 tbsp. milk
1 pack (40g) Nips milk chocolate
1 pack (25g) Nissin Cubee Wafer
1 bar (38g) Goya white chocolate
Procedure:
Preheat stove-top pan over medium heat for about 5 minutes. Line the sides and bottom of your pan with parchment paper or aluminum foil (glossy side down), If you don't have a 9-inch round pan, you can make a regular brownies just use a 8×8 pan as long as it fits in your casserole or steamer.

In a mixing bowl, combine brownie mix, canola oil, egg and water, then mix until smooth. Don't forget to scrape the bottom and sides of the bowl to avoid lumps. Transfer brownie batter into a prepared pan and spread evenly. (The batter has a thick consistency, but spreadable)

Cook in a preheated casserole over medium heat for about 12-15 minutes. Our casserole may vary in temperature, so please keep an eye on your brownie until it's done. Insert a toothpick in the middle and if comes out with a little moist crumbs, it's done. Fire off, transfer in a cooling rack and let it cool.
Meanwhile, in a heat proof bowl, combine chopped milk chocolate and milk. Microwave for 15 seconds, stir and reheat for another 15 seconds and stir until smooth and shinny. Let it cool slightly and it's ready to use. Spread chocolate ganache evenly in your fudge brownie pizza and top with Nips, Cubee Wafers and white chocolate. Cut Brownie in 8 pieces and it's ready to serve!
Here's our ingredients for Brownie Pizza:
A box of Sharon Fudge Brownie Mix, Canola Oil, Egg, Water. Chocolate Ganache, Nips, Cubee Wafer and White Chocolate. (If you have a homemade brownie recipe, that would be a great brownie base for you. And if you don't feel like making this pizza style, just use your regular 8×8 or 9×5 brownie pan. )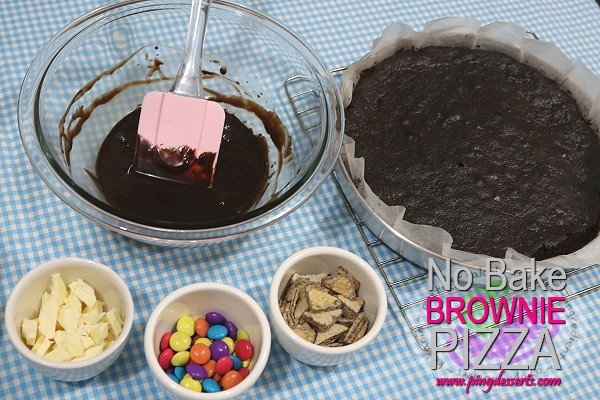 For Party Idea: If you want to make fresh fruit, brownie pizza use whipped cream or cream cheese and top it with your favorite fresh fruits. You can also use Nutella, Peanut butter or Caramel and spread it on top. Decorated it with some crushed nuts, dried fruits, chocolate chips, crushed cookies, marshmallows, sprinkles and crushed candies. And you can also drizzle it with chocolate, strawberry or caramel syrup.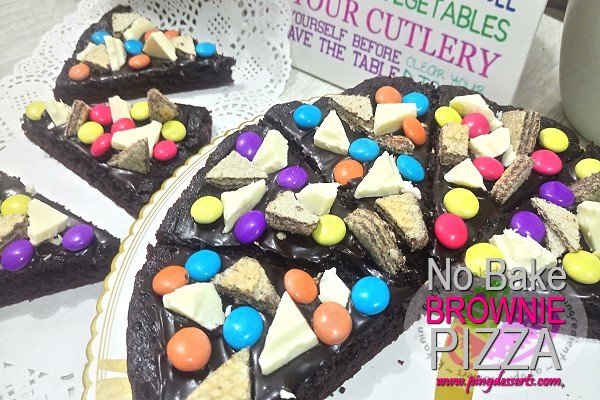 You can serve this in birthday parties or make it as a party giveaways, pasalubong treats or you can add it in your home business. Next time I'm going to make another version of brownie pizza, I hope you will give this recipe a try. Have a nice day guys and see you again on my next post 🙂
– oOo –
"Stop being afraid of what could go WRONG, and start being excited of what could go RIGHT." – Tony Robbins