How to Cook Banana Cupcake with Dulce de Leche Buttercream Frosting
Banana Cupcake with Dulce de Leche – they are soft, spongy and not too sweet. Top with a decadent Dulce de Leche Buttercream Frosting and Chocolate Sprinkles. To do this, all we need is a ripe banana, banana cake mix, eggs, oil, water, buttercream frosting, and sprinkles to decorate. Although this recipe is made from a pre-mix base and not from scratch, it still tastes delicious.
Makes: 24 cupcakes
Ingredients of Banana Cupcake with Dulce de Leche :
Banana Cake Batter:
2 (200g) Banana Cake Mix
2 medium Eggs, at room temp.
6 tbsp. Canola oil
½ cup Water
2/3 cup Ripe Banana, mashed
Frosting & Toppings:
1 cup Butter, cold
1 can Dulce de Leche, chilled
1 tbsp. Chocolate Sprinkles
You also Need:
24 pcs. 2oz. Paper Liners
4 pcs. 6 inches round pastry container
Check out Video Recipe:

Procedure:
Preheat: Stove-Top Steamer with 2 liters of water and bring it to a simmer. Cover steamer lid with a clean cloth or any fabric to prevent water drippings later on. Line muffin tins / silicone molds with same size cupcake liners.
To prepare Banana Cupcake: Mashed Ripe Bananas and set aside. In a bowl. Combine and mix all ingredients until smooth, at least 25 strokes or less, do not over mix according to package direction. Fill each tin/molds up to 2/3's full or divide the batter into 24 liners.
Arrange molders in the steamer and steam over medium heat with a lid. Steam for about 8 minutes, and do the toothpick test. Repeat the process for the remaining batch. Fire off, and let it cool completely on a wire rack, before frosting.
Let's prepare our Frosting: Whip cold butter until smooth and fluffy. Add chilled dulce de leche and whip until well blended and smooth. Transfer in a piping bag with your favorite nozzle tip, and we are ready to frost.
Let's Assemble: Just pipe the right amount of frosting on top of each banana cupcake. You can also spread the frosting with a butter knife. Decorate with chocolate sprinkles on top or any toppings you like. Store cupcakes in the fridge in an airtight container, this will last for a week.
Here's Our Simple Ingredients: Maya Banana Cake Mix, Ripe Bananas, Eggs, Oil, Water or Milk, Unsalted-Butter, Dulce de Leche (Homemade or Store-bought), and Chocolate Sprinkles. You can also use Crushed Peanuts, Cashews, Caramelized Banana Chips or Chocolate Chips for the toppings, and Smooth Peanut Butter, Chocolate Spread or Nutella for the frosting.

I saw a lot of Buttercream Frosting, using 2-ingredients; Butter and Condensed Milk and it looks yummy, so I tried it. This frosting is so sweet, so a little frosting on top goes a long way.
I noticed that my frosting wasn't as stable as theirs, idk why??. My store-bought Dulce de Leche is much thicker than their condensed milk, and I chilled it too before whipping. And still, it's not as stable as it should be, but it tastes really good, so I'm okay with it. And honestly, I ate 10 of these, LOL and Ed ate just 2 🙂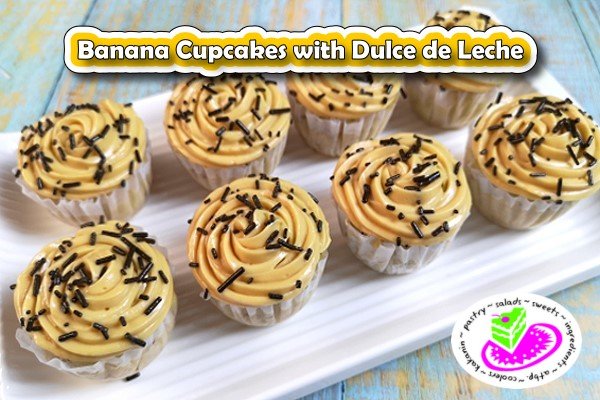 NOTE: If you want your frosting to be firm enough to hold its shape when you pipe, I think you need to add a little of Crisco vegetable shortening. Then, whip it together with the butter before adding your chilled dulce de leche or sweetened condensed milk and whip it again until light, fluffy and smooth.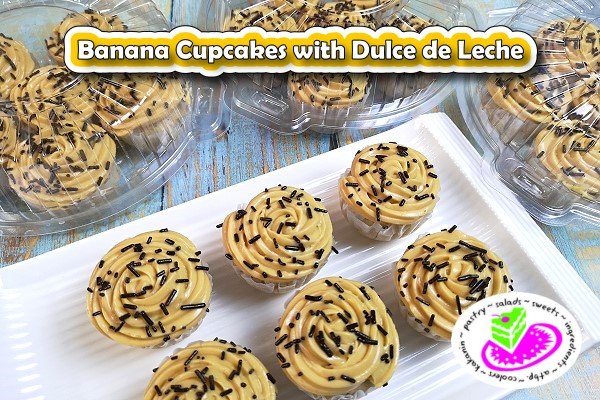 Another Pinoy favorite, banana cupcake with Dulce de Leche Buttercream Frosting. This is our new and simple recipe that will inspire you to bake and decorate the way you like. It's a hassle-free and a time saver, using a banana cake mix. But of course, feel free to use your family banana cake recipe from scratch. I hope you will try this quick and easy recipe, and it is great for home/online business. Be creative in your kitchen; enjoy and earn from it! Thanks for visiting guys, have a beautiful day and see you on my next post. 🙂
Computation: (this is just a sample reference on how to compute)
Price List:
2 (200g) Banana Cake Mix P 76.00
2 medium Eggs 14.00
6 tbsp. Canola oil 10.00
½ cup Water 5.00
3 pcs. Ripe Banana 15.00
1 cup Butter 45.00
1 can Dulce de Leche 55.00
2 tbsp. Chocolate Sprinkles 10.00
24 pcs. 2oz. Paper Liners 5.00
4 pcs. 6' round pastry container 40.00
Misc. Gasul / Elect. 20.00
. =========
. Total Expenses: P 295.00
Total Exp.: P 295.00 / Cost per Cont. P 73.75 / SRP P120.00 / Projected Profit (60%) P 185.00
Note: Profit depends on your SRP (SRP 120.00-150.00)
– oOo –
Success is not the key to happiness, happiness is the key to success. – Albert Schweitzer