How to make yummy Candy Treats perfect for Party and Business ideas.
Polvoron Cupcakes – are made of toasted flour, powdered milk, sugar, butter or margarine with rice crispies and top with dark chocolate and sprinkles. From the simple and traditional Polvoron recipe, it had come a long way to several flavors. These include pinipig, peanut, chocolate, cookies, and cream flavors, and so on.
A new and improved Polvoron shaped like a Cupcake with melted chocolate on top, super easy to make, and the ingredients are so affordable. It is so buttery, milky, crunchy, and crumbly. Just like any sweet treats, polvoron has become an all-time favorite and one of the best selling items in all Pasalubong Center. So today, we're going to make our simple yet delicious homemade polvoron. Now that my ingredients are ready let's start…
Makes 32 pieces (1oz.)
Ingredients:
Polvoron:
1¼ cups All-Purpose Flour
¾ cup Skimmed Milk
1/3 cup Sugar
½ cup Butter, melted
¼ cup Rice Krispies, optional
Topping:
250g Dark Chocolate
2 tbsp. Sprinkles
You also Need:
32 pcs. 1oz. Paper Liners
5 pcs. med. Pastry Container
Check out Video Recipe:

Procedure:
Let's Prepare our Polvoron: Sift all-purpose flour and toast in a frying pan over low heat, stirring continuously. Toast flour for about 8-12 minutes or until turns to light brown. Fire off and make a well in the center, add butter and let it melt while the pan is hot. Add sugar and skimmed milk and mix well until well combined. Add rice crispies, mix and let it cool.
Line 1oz. puto molders with paper liners and fill each mold at least 1½ tablespoon of polvoron mixture. Press down with pressure with the back of your spoon, and repeat the process until done and set aside.
Let's Prepare of Chocolate: Preheat water in a saucepan over low heat and cover with a lid. Roughly chop the dark chocolate and transfer into a heatproof or stainless steel bowl. Place the bowl, on top of your saucepan of simmering water and stir the chocolate until completely melted. Fire off, carefully wipe the bottom of your bowl, and transfer in your working area.
Let's Assemble our Polvoron Cupcake: Scoop about one tablespoon of melted chocolate and pour into your polvoron. Tilt your molder in a circular motion to cover the entire polvoron and repeat the process until all your polvoron are fully covered with melted chocolate. Decorate with sprinkles on top and refrigerate to set.
Here's Our Simple Ingredients: Toasted All-Purpose Flour, Skimmed Milk Powder, Sugar, Butter, Rice Krsipies, Dark Chocolate and Sprinkles. You can use your favorite powdered or skimmed milk, fortified or full-cream powdered milk it's up to you. You can also replace refined sugar with Caster or Wash Sugar. If you don't have butter, margarine is fine too, but a little bit salty.

Any melted chocolate can be used in this recipe such as; white chocolate, milk chocolate, dark chocolate, or the colored chocolates. For the design, there are so many toppings to choose from, so be creative. The more attractive your polvoron cupcake is, the more Kid's will be pleased and go crazy about, even adults would like it too 🙂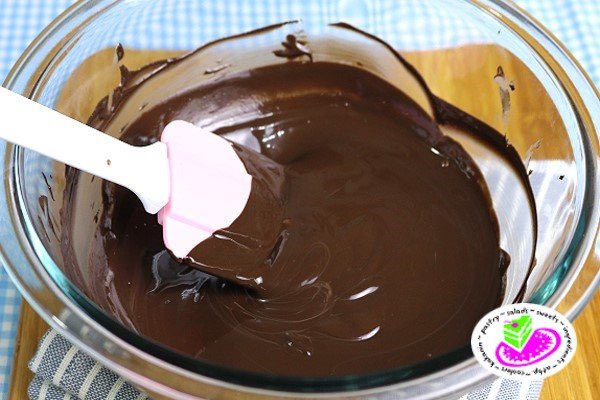 (Note: If you noticed, in my ingredient photo, the chocolate is different from my video because I change my mind LOL… As you can see in that photo, I prep Easy Melt Milk Chocolate from Goya, and I change it to Beryl's Dark Compound Chocolate. One of our youtube viewers advised me to try Beryl's Chocolate, and I'm glad I did. The quality is good, and it's effortless to melt. The price is almost 50% cheaper than the other one and the quality is good, a perfect choice for business recipes. I forgot her name and channel, but thank you very much for your advice.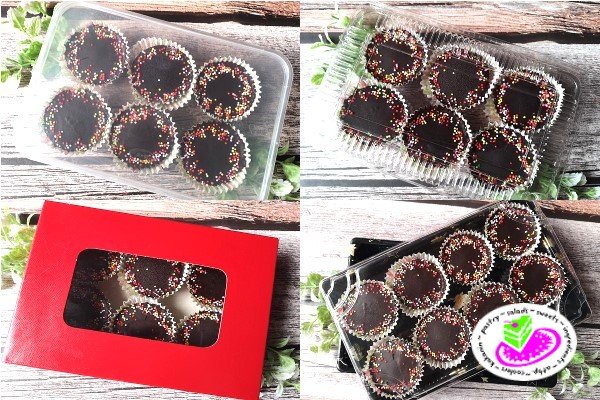 I want to show you guys these different kinds of pastry containers. First, (top left) the microwaveable and durable container with a fitted and secured lid. There's a disposable/single-use (top right) Clear View Pastry Container with a Flip Cover which is the cheapest one. The red Pastry Box with a Window Cover and the elegant Pastry Tray with a Clear View fitted lid. But the last one is not really suitable for Polvoron Cupcake, 😀 I think the pastry tray is perfect for bar desserts like brownies, blondies, cream cheese bars, smores bar, etc.

Our Polvoron Cupcakes looks cute and fancy, and the ratio of polvoron and melted chocolate is just right. That's all for this post guys and again we are done with another easy Negosyo recipe. I hope you like our yummy Polvoron Cupcakes, and if you do, please give this post a thumbs Up, haha. Thanks for visiting guys, see you again on my next post 🙂
Computation: (this is just a sample reference on how to compute)
Price List:
1¼cups All-Purpose Flour P 15.00
¾ cup Skimmed Milk 17.50
1/3cup Sugar 10.00
½ cup Butter, melted 22.50
¼ cup Rice Crispies, optional 5.00
250g Dark Chocolate 65.00
2 tbsp. Sprinkles 10.00
32 pcs. 1oz. Paper Liners 8.00
5 pcs. med. Pastry Container 24.00
Misc. Gasul 10.00
==========
Total Expenses : P 187.00
Total Exp.: P 187.00 / Cost per Cont. P 37.40 / SRP P60.00 / Projected Profit (60%) P 113.00
Note: Profit depends on your SRP (SRP 60.00-75.00)
– oOo –
Good or Bad just Smile. You have a lot to be thankful for.