How to cook Chocolate Leche Flan Recipe.
Chocolate Leche Flan Recipe. Leche Flan is a Filipino delicious custard dessert. It's made from eggs, sugar and milk "Leche". Steamed over an open flame or stove top, with caramel syrup shimmering on top. A best sweet treats for any occasions, especially at Kids party and a popular pasalubong treat too.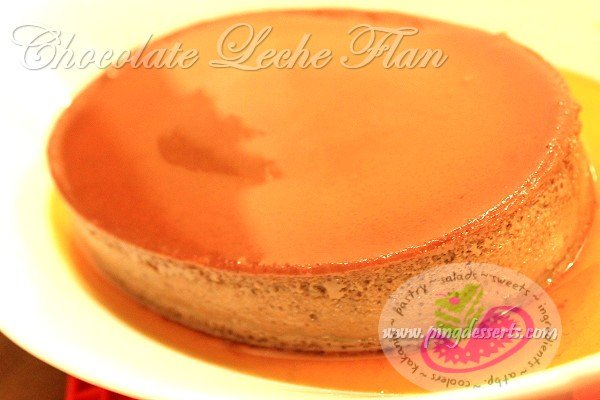 Chocolate Flan Ingredients:
2

pcs

.

eggs

4

pcs

.

egg

yolks
½ cup

hershey's

chocolate syrup
1 cup sweetened condensed milk
1 cup evaporated milk
1 tsp.

vanilla

extract
Caramel
10 tbsp.

sugar

4 tbsp.

water
Chocolate Flan Procedure:
Prepare steamer with a

litre

of water on a medium heat and cover with lid. Prepare a couple Llanera's or any deep tins, then divide sugar and water on both tins. Heat Llanera on a low fire one at a time until sugar starts

to melts

, dissolved and syrupy. Turn off the heat when

caramel syrup

turns light brown. Tilt the tin around to coat all sides and continue with the other Llanera and set aside to cool.
In a bowl whisk egg yolks and eggs together, pour in chocolate syrup and whisk, add condensed and evaporated milk, vanilla extract and continue to whisk until

combine

. Use a strainer and a ladle to transfer chocolate mixture

in to

tins to get rid lumpy bits and air bubbles.
Steam for about 30 minutes with a cloth under the lid, to catch water drippings and avoid flan from soggy. Check with a toothpick if it comes out clean your done. Fire off, transfer on a wire rack and let it cool for 10 minutes. Refrigerate for 20 minutes before transferring

on

a plate and loose edges with a knife for easy transfer to avoid flan from breaking.
…..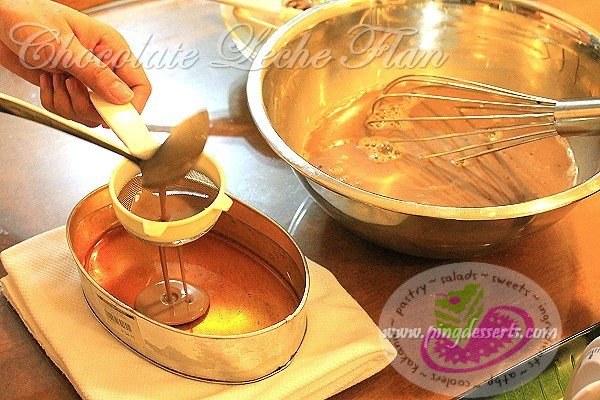 I remember my Nanay surprise us with a Pumpkin Flan and it was a click.
One of her ways to make us eat vegetable,

hehe..

she's

so tricky. And since I'm not a

fun

of pumpkin why not creating my own

favourite

"chocolate flan".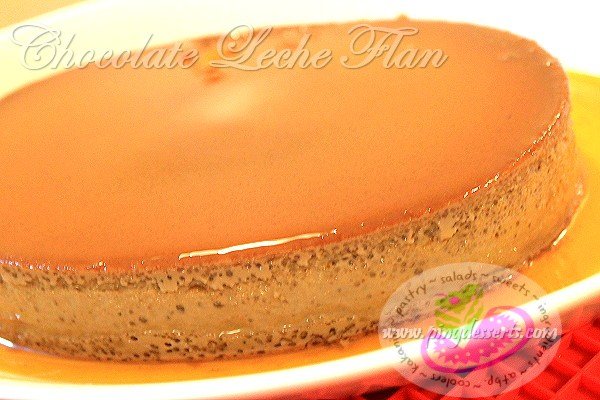 So here's my easy recipe, so light and creamy chocolatier goodness!!!.