How to make Pastillas de Leche Recipe.
Pastillas de Leche Recipe. Pastillas de Leche is a Filipino delicacy, a bite-sized candy made from milk and sugar, a perfect dessert for parties and picnics. Pastillas is easy to make and originally made from fresh Carabao's milk but you can always use the regular milk found in the local market.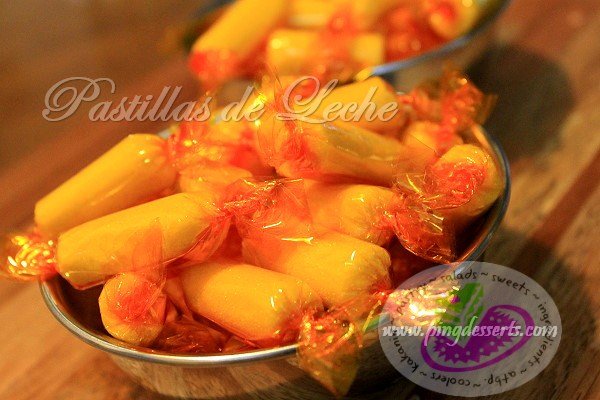 Pastillas de Leche Ingredients:
3 cups powdered milk, sifted plus ¼cup extra for dusting

1 cup condensed milk

Lemon or orange extract, (optional)

½ cup granulated sugar, for coating

Wax paper or cellophane, for wrapping
Cooking Procedure:
Place sifted powdered milk in a big bowl and make a well in the center. Pour condensed milk and lemon or orange extract (if using flavor extract) in powdered milk. Using a spoon or spatula mix the milk from the center slowly outwards until incorporated and forms a soft dough. The texture should be similar to a sticky fondant.
Cut wax paper or cellophane into rectangle with 1½ inches larger than your desired size of pastillas de leche "milk candy". Prepare extra milk powder and refined sugar on a separate bowls and set aside. Scoop some of the milk mixture, and using your clean hands make a ball. If it's a bit sticky just dunk in a bowl of extra powdered milk, shake off excess and roll into cylinders until smooth and shiny.
Roll in a bowl of refined sugar until evenly coated and shake off excess sugar. Wrap in prepared wax paper or cellophane. And keep on scooping, rolling, and wrapping until you're done. Store in an airtight container or a jar at room temperature.
.
.
Pastillas de leche is also a great gift or pasalubong for your friends and love one's.
.
Making Pastillas de Leche is a good home based business that can give you an additional source of income.