How to make Lengua de Gato Recipe.
Lengua de Gato Recipe. Lengua de Gato is a popular Filipino pasalubong treat by many balikbayans, these are easy-to-make light butter cookies. They are baked to a slight golden crisp that can be served with ice cream, chocolate drink or a cup of coffee. Lengua de Gato are thin cookies that look like the shape of a cat's tongue, that's why it is called Cat's Tongue Cookies in other countries and Lenguas de Chat in European countries.
Lengua de Gato Ingredients:
1/2 cup butter, at room temperature

1/2 cup sugar

3 egg whites

1/4 tsp vanilla essence

1 cup flour, sifted
Cooking Procedure:
Preheat oven to 180C (350F). Using a mixer at medium speed, cream the butter and gradually add sugar. Continue mixing until light and fluffy. Turn mixer on a high speed and add egg whites one at a time, beating thoroughly after each addition, then add vanilla essence. Sift the flour 2 times on a wax paper and fold in, blending thoroughly to form a smooth mixture.
Spoon mixture into a pastry bag with a small round tip. Pipe 2-3 inch strips of the batter onto a lined baking tray with wax paper, about 2 inches apart. Flatten the batter a little bit by tapping the tray lightly on a flat surface. Bake each batch in preheated oven for about 8 minutes or until the cookies have lightly browned edges. Remove cookies immediately from the baking tray.
.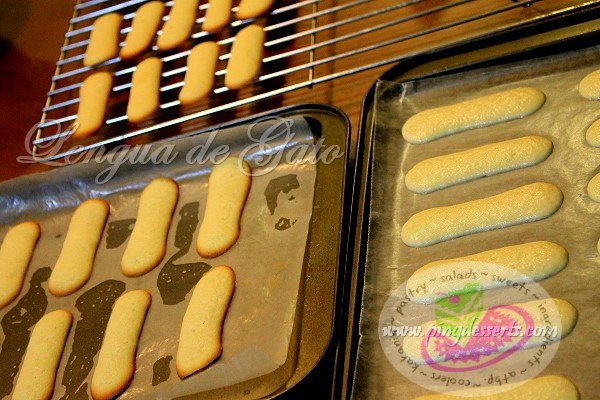 .
Peel off wax paper from the cookies while it's hot to prevent sticking. If the cookies become cool you'll have a hard time taking them off. Transfer to a wire rack and let it cool to crisp. If not eating, pack in an airtight container or mini-plastic wrap, sealed and store up to a week.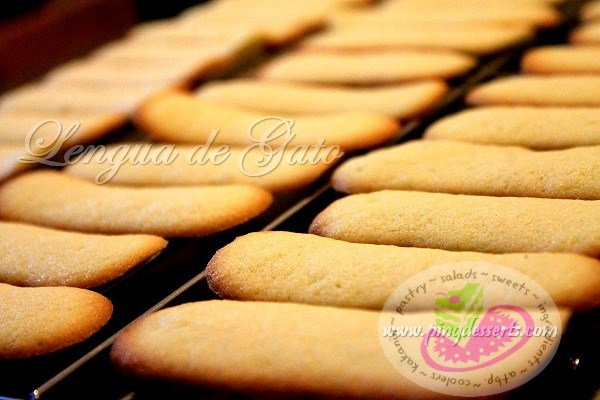 .
A freshly baked Lengua de Gato, the smell is so tempting…. Yum o' yum, what a buttery goodness! Waiting in line while it's cooling and watching them disappear one by one.
.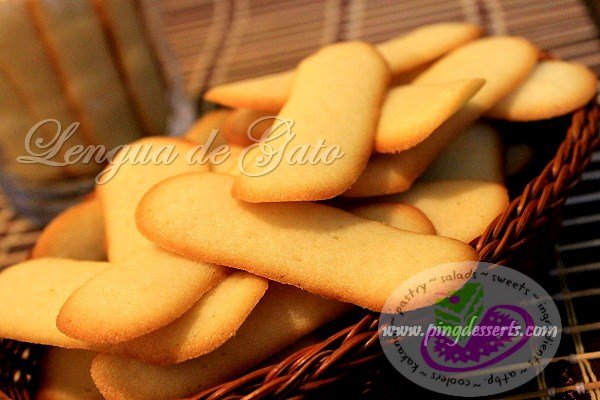 .
Lengua de Gato is delicious on its own, but you can try dip Lengua de Gato in a smooth melted semi-sweet or dark chocolate. A fast and easy cookie recipe to serve at a children's party, Kids will surely love it!
.