Try Taguig City's Best Filipino Desserts

Dining out can become a real culinary trip with the top Filipino desserts you can find in Taguig.
Amid the rise of cosmopolitan desserts such as Korean concoctions and Italian gelatos, where are local sweets? The top Filipino desserts you can find in Taguig are hot contenders.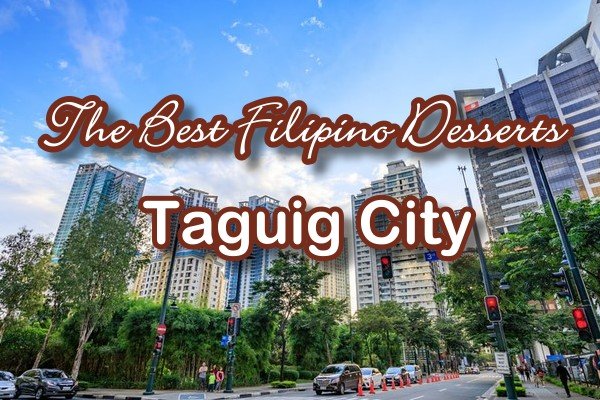 Mangoes and More Mangoes
The Filipino mangoes, particularly the Guimaras mangoes, are said to be incomparable among fruits. Because of this, the Philippine mango has been featured time and again in dessert places such as Maxi Mango. This kiosk in Market Market! Serves up all kinds of mango concoctions, most of them very cold, to appease even the most fastidious sweet tooth. Chief of these is the mango graham, which is a cream and mango mix topped with graham cracker crumbs. This very inexpensive treat can be finished on the go, making it a great stop during a shopping trip in the area.
Other establishments with their own takes on mango desserts include Happy Mango and Go Mango! The former is also situated in Market Market! While the other is in the up and coming Vista Mall in Greater Taguig. Miguelitos Hyped Mangos, an offshoot of the favoured Miguelitos Ice Cream, has also set up shop in the SM Hypermarket FTI in Western Bicutan.
Local Ice Cream That Is Not Sorbetes
A longstanding brand that has held its own against giant conglomerates is Fruits in Ice Cream, or fondly known as FIC. This ice cream parlor has branches and kiosks located throughout the country, and its Taguig branch is situated on the third floor of the Market Market mall.
FIC's repertoire of ice cream flavors includes classics such as Belgian chocolate, French vanilla, and fruit flavors, as well as distinctly Filipino flavors such as tsokonut, nangkasuy and queso. Its frozen custard lineup is a rich addition to the dessert experience, unparalleled even by the most upscale gelato bars.
Shakes and Smoothies
For some people, a tall heavy shake is a dessert onto itself. Emack and Bolio's on One Bonifacio High Street offers just that, but with a uniquely Filipino experience. Visitors can choose from several signature smoothies or opt to customize with local ingredients such as coconut milk, mangoes, and pineapples.
The signature smoothies are a great way to sample some favorite Filipino fruit flavors such as guavas and the ubiquitous banana, blended with yogurt or sorbet. Not only are these fruit mixes tasty, but they are healthy to boot!
Tahoooooooo
This afternoon favorite is not solely the province of the neighbourhood manglalako or hawker. Taho Manila in Market Market! Now offers this soy and tapioca concoction at all daytime hours.
The taho here is served hot, as it should be, with a sizable addition of arnibal syrup.
Cakes and Pastries
Although cafes and bakeries abound in Taguig, only a few can really pride themselves on serving distinctly Filipino cakes and pastries. One of these establishments is Sugarbee, which is ensconced in the BGC Stopover Pavillion. This bakery has a very wide repertoire of goods, from full sized cakes to bite sized treats such as cupcakes and bars.
In the realm of cakes, one can find local classics such as sans rival and dulce de leche, as well as new creations including ube milk cake and malagos flourless cake. A gluten free version of a cake with the famed malagos chocolate? That can only be synonymous to paradise!
A Homebrewed Cup
A good many people would consider the dessert course incomplete without washing it all down with a comforting cup of coffee. Holding its own bravely against large coffee conglomerates is Bo's Coffee, which originated in Cebu, and has since expanded to nearly 200 outlets nationwide and overseas.
Taguig residents and visitors seeking the Bo's brews can head over to its branch in Bonifacio High Street. Bo's Coffee sources its beans from local farmers in highland regions such as Benguet and Kalinga. From here, the beans are roasted and blended to produce some of the tastiest and most aromatic coffees on the scene.
Taguig may be a rising cosmopolitan area, but the Filipino desserts still have their special place on the local culinary scene.