Purple Yam "Ube" The purple yam also known as "Ube" here in the Philippines it is a versatile vegetable. It can be barbecued, roasted, fried, grilled, boiled, baked, smoked and when grated it is processed into a dessert recipe. The vegetable has a rough skin which is difficult to peel, but which softens after heating. The skins vary in color from dark brown to light pink. The majority of the vegetable is composed of a much softer substance known as the "meat". This substance ranges in color from white or yellow to purple or pink in mature yams. Some varieties of these tubers can be stored up to six months without refrigeration.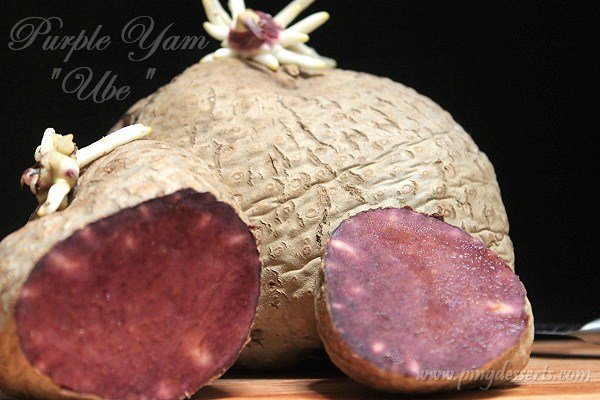 I got this beautiful purple yam from Nanay Mila, my parents grow different root crops, vegetables and fruit trees on their small farm in Hinigaran, Negros Occidental. How lucky I am to have different FREE and FRESH crops every month, thanks to my parents who loved to grow anything in the farm 🙂
Here in the Philippines, the purple yam "ube", is eaten as a sweetened dessert a popular Filipino delicacy called "ube halaya".
And it is also used as an ingredient in many Filipino desserts, such halo-halo, ube chiffon cake, ube ensaymada, ube hopia, ube tart, ube shake, ube flavoured puto and so on.
It is also used as a popular ingredient for ice cream.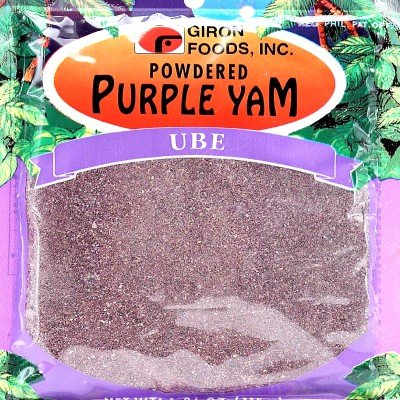 Ube can be bought either raw, frozen, powdered and in essence or extract form.
Ube is available in local markets and many leading supermarkets as well.