How to make Cassava Delight Recipe.
Creamy Cassava Delight Recipe. A simple cassava dessert, another Filipino kakanin recipe to try, very easy to prepare, the ingredients are so affordable and surely will delight your taste buds. To make this simple kakanin, all you need is a boiled cassava, grated or mashed. The cassava is cooked in sugar, milk, butter or margarine, egg yolks and flour.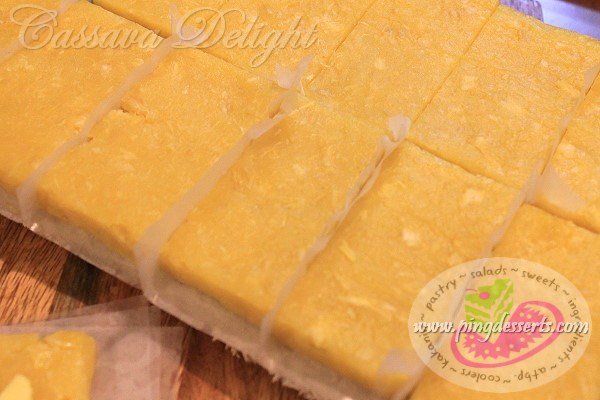 Cassava Delight Ingredients:
2 cups cassava, boiled, peeled and mashed

1/4 cup all-purpose flour

1/4 cup sugar

1/2 cup margarine or butter

1 cup evaporated milk

3 egg yolks

1 tsp. vanilla extract (optional)

extra chilled butter, for garnish

wax paper, for wrapping (optional)
Cooking Procedure:
In a heavy saucepan, place flour, sugar and milk then stir well to dissolve the flour and sugar. Cook the mixture over a low heat and keep on stirring. Add the egg yolks and butter or margarine stir to blend thoroughly. I did not put vanilla extract in this recipe because I want it to have an authentic cassava flavour.
Lastly, add in the mashed cassava and stir constantly until thickened, then remove from the heat. Transfer in a prepared square or rectangle pan, flatten it with a spatula to make it even. Cover cassava delight with a plastic food wrap to prevent it from scorching.
Refrigerate for 5 minutes to cool down before you slice. You can slice on whatever size you want and simply serve it in a plate top with butter or margarine. Or you can either slice it and place it in wax paper for easy handling or place in a banana leaf to look more appealing and authentic.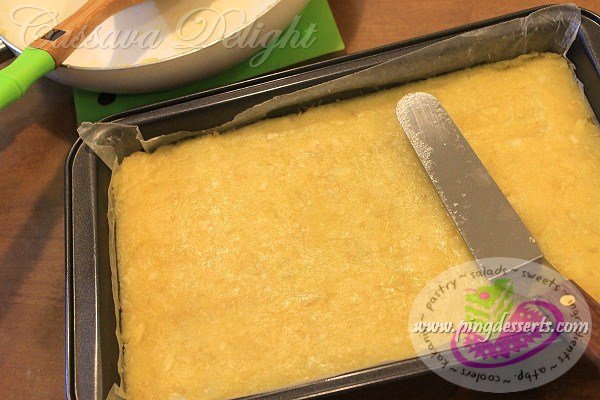 .
If you prefer to use vanilla extract and brown sugar, its better because it makes the cassava richer in flavor. If you want a lighter and less sweeter cassava delight, just use butter instead of margarine and lessen the sugar by a tablespoon from the recipe. And if you want to make it more extra special, try whipped cream or cream cheese topping instead of plain butter.
.
.
This is a great alternative if you are craving for camote delight also know as "sweet potato delight", this recipe is sweet, creamy and buttery, a bit grainier in texture than sweet potato but it is good as camote delight.
.