How to make a delicious Yema Cake Frosting Recipe.
Yema Cake Frosting Recipe. Special Yema Frosting that can be used in Sponge and Chiffon Cake, Cupcakes, Cake Rolls, Mamon and etcetera. As promised, here's my second version of Yema Frosting with grated cheese. This beautiful Yema Frosting is very rich, creamy and super addicting, it's very easy to make and the ingredients are so simple. To make this frosting all you need is an extra time, about 40-45 minutes, much faster than making dulce de leche, it takes 3 hours to boil the whole can of milk before you can frost any cake.
Makes 2½ cups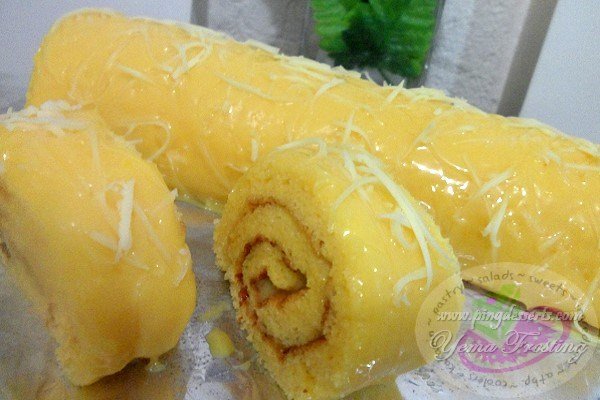 Yema Frosting Ingredients:
1 can (400ml) sweetened condensed milk
½ cup (125ml) evaporated milk
6 large egg yolks
¼ tsp vanilla or lemon essence
Grated cheese for toppings
Cooking Procedure:
In a stainless steel or heatproof bowl, combine first three ingredients. Heat the milk mixture to the bowl set over a saucepan of simmering water for about 40-45 minutes or until the mixture becomes thick and spreadable. Turn off the heat if you reach your desired thickness and your desired color. Add the vanilla or lemon essence and stir until well combine.
Let it cool down, remember as it cools down the mixture thickens a little bit more. Cover the yema frosting with plastic wrap, making sure there's no air in between to avoid scorching or having skin on top. Let it cool completely before frosting, place in a clean sealed container and refrigerate.
Here's the basic ingredients of Yema Frosting, Full Cream Sweetened Condensed Milk, Full Cream Evaporated Milk, Fresh Egg Yolks, Vanilla or Lemon Extract and don't forget the Cake and grated Cheese for topping.
.
Here's the final product, I used it to frost the tiny cake roll "pianono" and top it with cheese, looks tempting right? I'm 100% sure you gonna like this recipe. This version is very rich and creamy the full cream milk gives a divine custard goodness that so addicting.
.
Let me share my bloopers … In case you didn't notice there's a white cake mix on my ingredient photo. Since I focus on my frosting recipe, I decided not to make a sponge cake from scratch and so I use the cake mix my Aunt gave me. I baked and sad to say it didn't turn out well. When I invert the bundt pan, it's hard to take off the cake, so I tap on the table as hard as I can it fall off easily but part of the cake stacked on the pan. Cracks everywhere! even if I try to fix it, it doesn't look good, see I'm in stress grrr!. . Here's the Cake posted at the bottom, LOL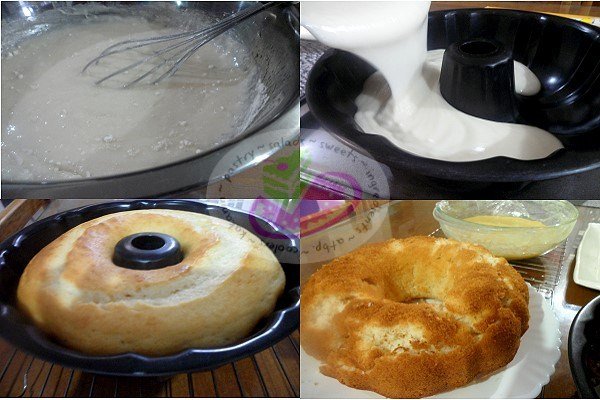 .
I got another bright idea, ting!! I ask my husband Ed if he can buy me a sponge cake, since there's no cake available he bought me the special mamon. Thanks, but as soon as I frost it, looks good and yummy, took some shots, but then again I'm not ok with it. And here's the special Yema Mamon for everybody 🙂
.
And it didn't stop there, every time I look at the mamon I doesn't please me, oh no not again. In my head, my perfect Yema Frosting is screaming for a perfect cake LOL. So I decided to make a sponge cake roll for the last time. Got pumped up again! I've been measuring, whipping, mixing, shooting here and there until I'm done, Finally, this is it! Got my timer on, relaxin' watchin' and waitin'. Time's up and again miracles don't happen all the time, especially when your kitchen is hot as hell, LOL . What went wrong?, my Cake Roll didn't rise well and it looks like a "pianono", not bad at least I have a consolation prize.
.
And Here's my final cake, charann!!. the Yema Cake Roll. Anyways, this post is all about the perfect Yema Frosting, thanks to Aling Oday. Hope you try this recipe and start frosting your cake and enjoy the Yema goodness!!