How to make easy and simple No-Bake Graham Crust .
No-Bake Graham Crust Recipe. A super easy and simple way of making a perfect No-Bake Graham Pie Crust. Using these few ingredients such as graham cracker crumbs, sugar, butter and cinnamon, you can make a versatile graham crust ready for different kinds of pie filling. A delicious, buttery and crunchy homemade graham pie crust a ready to use pie crust. You can add any filling you prefer from chocolate mousse filling, cream cheese pie filling, pudding mix filling, custard filling, pastry cream with fruits and etc…
Makes : (1) 8-inch pie crust
Ingredients:
1½ cups Graham Crackers, finely crushed
½ cup (1 stick) Unsalted Butter, melted
2-3 tbsp. brown sugar
½ tsp. fine salt
½ tsp. cinnamon, (optional)
Cooking Procedure:
In a small saucepan, melt the butter and set aside. Crushed Graham crackers in a food processor until it turns into a fine crumb and if you don't have a food processor, you can crush it the way you prefer. Or might as well buy the pre-crushed graham it's ready to use and very convenient. In a large mixing bowl, combine all 5 ingredients and mix well with a fork or spatula until well blended. (If you're on a lazy mode, you can mix in the pie plate right away, less bowl to be washed later on 🙂 )
Transfer the moist buttered graham crumbs into your pie plate and press the mixture into the bottom and sides of your pan. To make the crust neat, more even and compact you can use a clean glass or any similar utensils and use the bottom and press against the crust. When you're done, chill the crust for at least an hour or more until your crust becomes firm before adding any filling. At this point, you can prepare any filling you desire.
.
A little tip on making graham crust, don't add more butter or you'll crust will become too greasy and don't adjust the butter or your crust will not hold together it will fall apart when you slice. Using the same graham crust recipe you can bake this at 325F for 8-10 minutes until lightly brown (damn, how will I know if it's lightly brown?? Graham is already brown… LOL) Just bake it for 8-10 minutes, that's it, fire off and transfer in a wire rack to cool completely before adding your desired filling.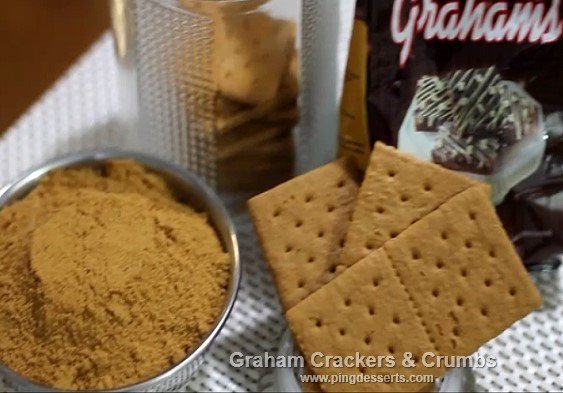 Graham Pie Crust Ingredients
See you on my next post, I will reveal and share my pie filling. I hope you will give this a try and If you have the best pie filling in mind, please do share with us so we can give it a try also.
.