How to make a delicious and creamy Purple Yam Jam.
Purple Yam Jam Recipe – is a Filipino well-loved dessert, it is also called "Ube Halaya". This sweet purple yam recipe is made from fresh Purple Yam "Ube" which are boiled and mashed, cooked in evaporated and sweetened condensed milk, butter and sugar. The purple yam jam is sweet, creamy and a little bit sticky. The flavour and aroma of purple yam are strong and delectable. Purple Yam Jam is another popular and well loved Filipino dessert, it can be eaten as it is, serve as a spread, can be used for tart & pie filling, often used to add real flavour, texture and color in a different kakanin recipe such as Sapin-Sapin, Inutak and many more.
Serves: 12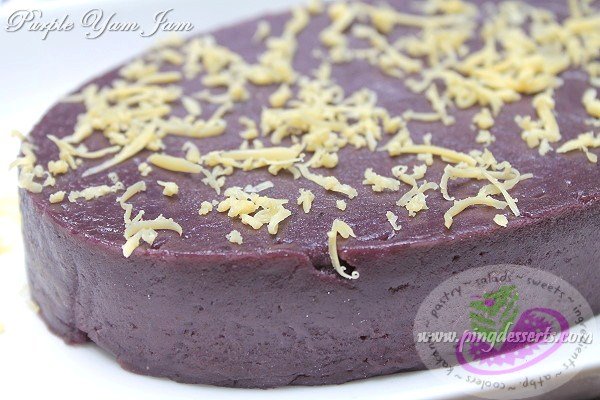 Purple Yam Jam Ingredients:
1 kilo uncooked purple yam, boiled and mashed (1 kilo = 3½-4 cups of mashed yam)
Water, for boiling (enough to cover the purple yam)
1 tall can (370ml) evaporated milk
1 can (300ml) condensed milk
½ cup white sugar
½ stick of butter, + extra for greasing
1-2 tsp. ube extract
Purple food coloring, (optional)
Grated Cheddar Cheese, for toppings
Cooking Procedure:
To prepare the Purple Yam: First scrub and wash yams, then boiled the purple yam in a deep pot, just cover with water enough to cover the whole yams. Bring to boil over medium heat for about 25-30 minutes or until tender. Fire off, transfer in a colander and let it cool.
When it cools down, peel off the skin and discard, then mashed the yam until smooth and free from lumps. For those who are using frozen purple yam, simply thawed them before using and skip the boiling preparation.
In another pot, combine evaporated milk, condensed milk and sugar, then bring to boil over medium heat stir to dissolve the sugar. When it starts to boil, turn the heat to low and add the mashed purple yam and stir continuously until it thickens to avoid the mixture from burning at the bottom.
When it starts to thicken, add 2 teaspoons of ube extract and food colour (optional) and continue to mix until well blended. Stir in the butter and mix well until blended. Keep stirring until you get your desired consistency for some they like spreadable and for others they want a little bit firm. To store your purple yam jam you can use tiny jars for the spreadable ones. For the firm purple yam you can place in a greased Llanera or plastic containers. Refrigerate purple yam for at least an hour before serving.
.
My Purple Yam Jam ingredients are measured and ready except for my toppings "grated cheese" which I forgot.
I always used Alpine full cream milk every time a recipe calls for an evaporated milk, it gives an extra creaminess to it.
You can buy fresh purple yams "Ube" at the local wet markets and these are sold by a kilo. It's nice to visit wet market once in a while, especially when you have time. Root crops section has a lot of varieties next to purple yams, of course, there's white and yellow cassava, sweet potatoes, taro and etc… And for those who doesn't like wet markets, you can also find frozen purple yam at your leading super markets.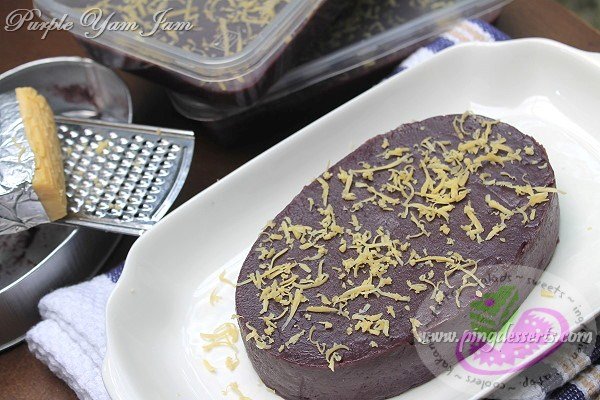 This recipe makes (2) big Llaneras or (3) small Llaneras & if you don't have this mold you can use a plastic container.
.
.
Purple Yam Jam is another home business to consider, it's easy to make, very affordable and you can have a good profit from this recipe.
.