How to make a delicious and chewy Coconut Macaroons .
Filipino Coconut Macaroons Recipe – A popular Filipino pasalubong treat, a sweet and chewy mini coconut muffins. This is the original Coconut Macaroons recipe, it is made of sweet desiccated coconut, condensed milk, sugar, eggs, butter and vanilla extract. These tiny coconut macaroons are tasty and often serve as snacks serve along with coffee, tea or cold drinks.
Makes 4 dozens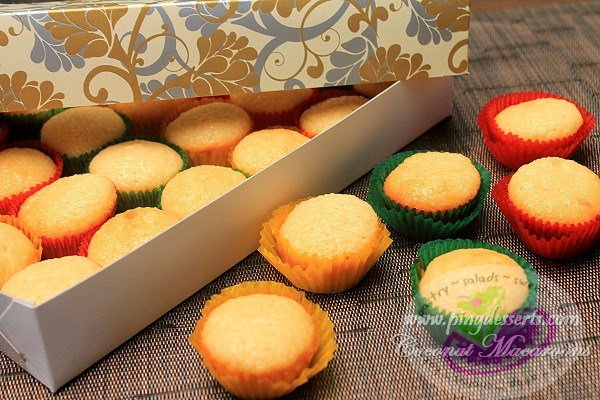 Coconut Macaroons Ingredients:
2 eggs @ room temperature
1/4 cup sugar
1/3 cup butter, melted
1 can (300ml) sweetened condensed milk
1 tsp. vanilla extract
1/2 cup all-purpose flour, sifted
1/2 tsp. baking powder
2 cups sweet desiccated coconut
50pcs (1 oz.) cupcake liners
Cooking Procedure:
Preheat oven to 350F and lined mini muffin pans with 1oz. cupcake liners. Whisk the eggs until light and frothy. Add the sugar and melted butter, then whisk until sugar is completely dissolved. Add the sweetened condensed milk and vanilla extract, then whisk until well blended. I put 2 tablespoons of water in the milk can to get the remaining milk at the bottom, I don't want to waste it and then I add to the mixture but this is optional. Mix well until smooth and the water is well blended.
Add the sifted all-purpose flour and baking powder and mix well. Lastly, fold in desiccated coconut and let it soak for 5 minutes, just to soften the coconut. Scoop mixture into cupcake liners about 2/3's full. Continue filling each liner until you're completely done, it yields 4 to 4½ dozens.
Bake macaroons for at least 10-15 minutes or until lightly brown on the top. I use the middle rack, to avoid macaroons from burning the top part. Fire off, and transfer in a cooling rack to cool completely before packing and storing.
.
These are the simple ingredients that sitting on your pantry waiting for your magic hands, to turn into a delectable mini treats and addicting coconut macaroons.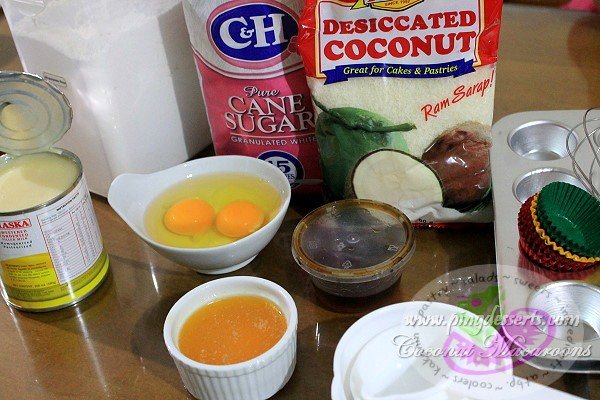 Since I only have 2 pans of 12-cavity mini muffin tin, so I have to bake it in two batches.
I think I need two more of this tiny pan to save time and electricity.
Have you noticed?? In case you didn't the Coconut Macaroon which photo shown on the upper part has an all-purpose flour and baking powder and the Coconut Macaroons shown at the bottom, I omit the flour and baking powder in the recipe. The difference are macaroons without the flour are more dense and chewy and the macaroons with the flour are light, airy and chewy and yields half dozen more.
.
.
Coconut Macaroons are one of the best selling sweet treats in any leading pasalubong stores. Another recipe you might consider adding into your home business list. Store in a fancy plastic airtight container or have a personalize box to put in your coconut macaroons and there you go, share, sell and enjoy. What do you prefer compliments or profit? Hmm … I like both 🙂
.