How to make a quick and easy gourmet toast with decadent brownies.
Toasted Bread Brownies – A combination of butter toast and brownie in one, a great idea for breakfast and afternoon snacks. These toasted bread are buttery, crispy, and deliciously good. To make this all we need is to pre-butter our slice bread and toast until crispy. Spread with a good amount of brownie batter on one side and top it with nuts, dried fruits, crushed cookies, etc. Toast for another few minutes just until brownie is baked, serve, and enjoy!
Toasting a stale and nearly expired bread is an excellent way of prolonging its shelf life. You can toast it with a soften butter and cinnamon sugar. But if you are bored eating this ordinary toasted bread like me, I have good news for you guys. I saw this recipe from YouTube, and I think she's a Malaysian or an Indonesian. Her channel name is PIMMY TASTY, and she made this awesome Toasted Bread Brownie Recipe for us 😉 Since I have all the ingredients needed for this recipe, I can't wait to try it. I'm so excited to make this gourmet toasted bread brownies. So let's start…
Makes: 12 toast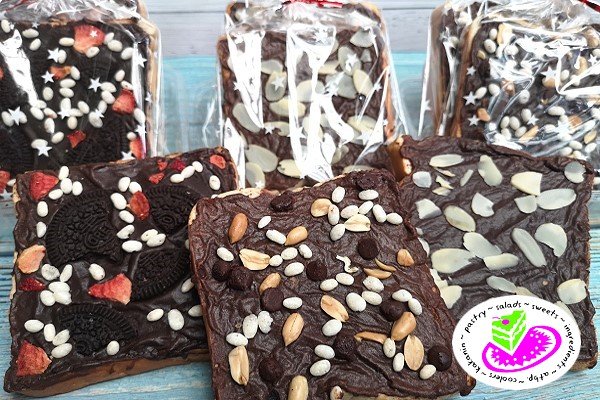 Ingredients:
Toasted Bread:
12 pcs. Slice Bread (White or Wheat)
1/3 cup Softened Butter
Brownie Batter:
1(230g) Brownie Mix
1 med. Egg
¼ cup Oil
1 tbsp. Water
Toppings:
2 tbsp. Sliced Almonds
3 pcs. Oreo, discarded filling & cut into chunks
1 tbsp. Dried Strawberries
2 tbsp. Rice Krispies
1 tbsp. Chocolate Chips
1 tbsp. Peanuts, roughly chopped
You also Need:
3 pcs. Pastry Tray with Lid Cover or 12 pcs. Individual Plastic with Twisted Wire
Check out Video Recipe:

Procedure:
Preheat: Oven to 300F/150C and prepare 2 baking trays with a cooling wire rack set on top.
Let's Prepare Our Bread: We need 12 pieces of sliced bread; spread softened butter on one side of each. Arrange sliced bread on a prepared baking tray; the bread should be placed buttered side up. This set-up will toast and crisp the bread without burning them — Bake for approximately 20-30 minutes. I toast mine for about 25 minutes, then take off from the oven and I let it cool while making the brownie batter.
Let's Prepare Our Brownie Batter: In a mixing bowl, combine all ingredients needed and mix until the batter is smooth. A store-bought Brownie Mix may have different add-ons, please follow procedure according to the package directions. (You can also use your brownie recipe from scratch if you don't prefer using a brownie mix).
To Assemble Our Brownie Toast: Using a small ice cream scoop, put one scoop of brownie batter and spread evenly on the plain side. If you don't have a small scoop, divide brownie batter into 12 and spread evenly. Top with prepared toppings, decorate neatly and be generous with your toppings. Put it back in the oven and bake for another 8-12 minutes or until brownies are done. Fire off, and let it cool before storing or packing them individually.
Here's Our Simple Ingredients: Slice Bread (white or wheat bread, will do) and Softened Unsalted Butter
Brownie Mix, Egg, Oil and Water (Follow Package Direction)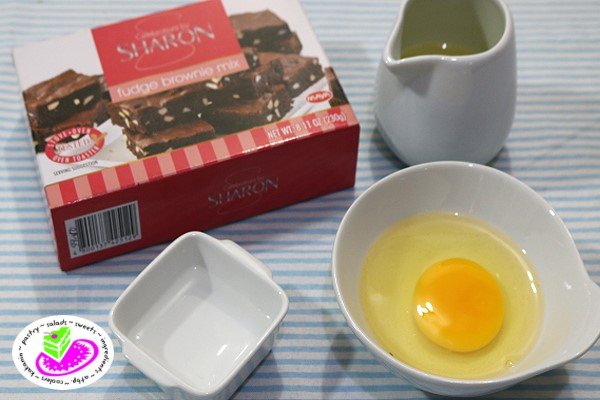 Decorate Brownie Toast with your favorite toppings such as; Dried Fruits, Mix Nuts, Cereals, Coconut Flakes, Seeds, Mini-Marshmallows and Chocolate Chips or Roughly chopped Chocolates. You can also buy at any baking store a pack of Mixed Nuts. They also have retail packs of different Nuts and Dried Fruits. Granola Mix is the best healthy option for your toppings.

Toasted Bread Brownies with Oreo, dried Strawberry and Rice Krispies

Toasted Bread Brownies with Slivered Almonds.

Toasted Bread Brownies with Peanuts, Semi-Sweet Chocolate Chips and Rice Krispies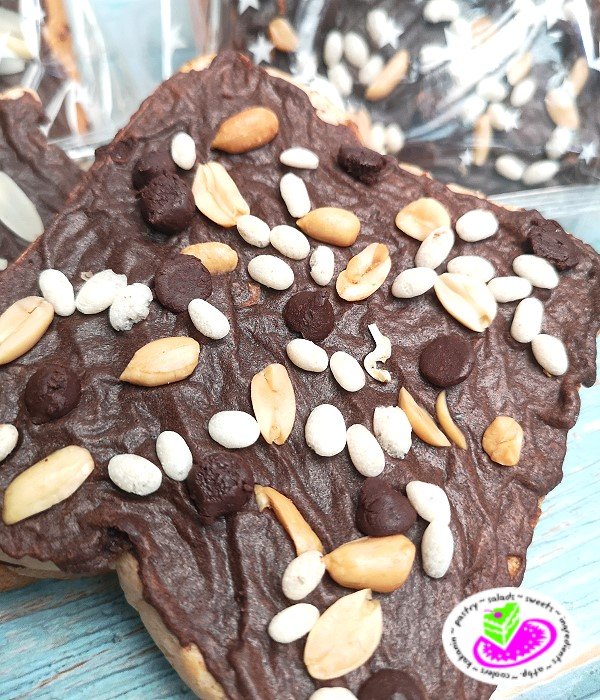 Packaging Ideas: Pastry tray with clear view lid cover or you can use individual pastry plastic with twisted wire to seal. You can store these in an airtight container and leave it at room temperature, and this will last for a month. Just re-toast for a few minutes and you can enjoy your crispy toasted bread again with a cup of tea or coffee.
Our newest favorite and super love, love, love! Toasted Bread Brownie. You know it's really that good when not only kids, but even adults fight over food, right??. No one wants to settle for an equal share, especially Me, I wanted more, LOL… I'm thankful and glad that I tried Pimmy's treat and I hope you guys will try it too, it's so crunchy and so good!. Again, it's a hassle-free and always a time saver, using a brownie mix. But of course, feel free to use your brownies recipe from scratch. Top with your favorite brownie toppers and enjoy! I hope you will try and love this yummy breakfast/snacks idea, have a wonderful treat for Kids and for us too. Thanks for visiting guys, have a blessed weekend and see you on my next post. 🙂🙂
Computation: (this is just a sample reference on how to compute)
Price List:
12 pcs. Slice Bread P 40.00
1/3 cup Butter or Margarine 15.00
1(230g) Brownie Mix 49.50
1 med. Egg 7.00
¼ cup Oil 7.50
1 tbsp. Water .50
2 tbsp. Sliced Almonds 15.00
1 pack Oreo Cookies (3's) 7.00
1 tbsp. Dried Strawberries 10.00
2 tbsp. Rice Crispies 2.00
1 tbsp. Chocolate Chips 7.00
1 tbsp. Peanuts 4.00
3 pcs. Pastry Tray w/Lid @13.50 40.50
Misc. Gasul / Elect. 30.00
=========
Total Expenses: P 235.00
Total Exp.: P 235.00 / Cost per Tray (4's) P 78.35 / SRP P120.00 / Projected Profit P 125.00
Note: Profit depends on your SRP (SRP 120.00-150.00)
– oOo –
When you can't control what's happening, challenge yourself to control the way you respond to what's happening. That's where your power is! Self Control is the Key 🙂