How to cook Filipino Banana Cupcake. Have over-ripe bananas sitting in the counter and bored of preparing the same old banana bread once again? Then try this rich and moist Filipino style Banana Cupcake recipe.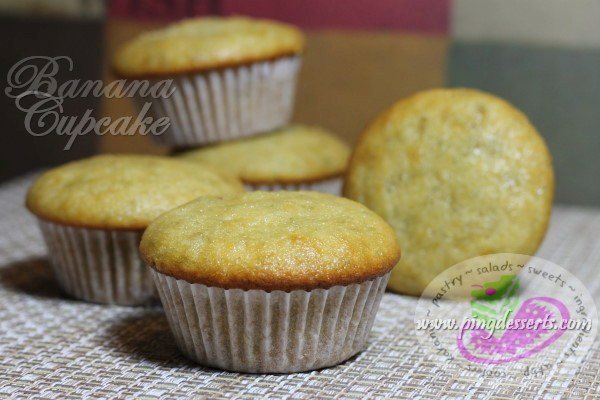 Filipino Banana Cupcake Recipes:
2 very ripe large bananas, peeled
1 1/4 cups all purpose flour
1/4 teaspoon salt
1 1/2 teaspoons baking powder
1 1/2 teaspoons vanilla extract
3/4 cup brown sugar
1/2 cup (1 stick) butter, at room temperature
1 large egg
1/4 cup semi-sweet chocolate chips (optional)
Filipino Banana Cupcake Cooking Instructions:
Position rack in center of oven and preheat to 350°F. Line 12 standard (1/3-cup) muffin cups with paper liners. Whisk flour, baking powder, and salt in medium bowl to blend. Then mash bananas with fork in another medium bowl until smooth. Using electric mixer, beat egg, sugar and butter in large bowl until light and fluffy, about 3 minutes then add vanilla extract. Add all dry ingredients in the egg mixture until smooth then add mashed banana and mix completely. Add the semi-sweet chocolate chips in the batter if using one. Divide batter among prepared muffin cups (generous 1/4 cup for each). Bake cupcakes until tester inserted into center of each comes out clean, about 20 minutes. Transfer the Banana cupcakes to cooling rack and let cool completely.
. . .
Freshly baked Plain Banana Cupcake . . . You can really tell its good by it's appetizing banana aroma that fills our kitchen and calls my name for a big warm bite. Yummmmmy!
Banana cupcakes with semi-sweet chocolate chips, you can also use any chocolate you want just chopped it. And of course you can try adding chopped cashews or pistachio nuts if you want, to make it even more special and gives a crunchy texture.
Moms love it, Kids like it and I want it!
. . .