How to cook Kalamay Recipe.
Kalamay Hati or Calamay sa Bao Recipe. Kalamay is one of the best delicacies here in Philippines. A sweet, sticky, and gooey dessert and often prepared during All Saints Day. It is made from glutinous rice, fresh coconut milk and muscovado sugar. You can also buy Calamay sa Bao at supermarkets and especially in pasalubong centers.
Kalamay hati Ingredients:
1½ cup glutinous rice flour
1½ cup muscovado or brown sugar
2 cans (400ml) coconut milk or 4 cups fresh thick coconut milk
Kalamay hati Procedure:
In a large non-stick saucepan, combine coconut milk and glutinous rice flour. Stir until flour dissolved. Turn on the fire to a low heat and keep on stirring with a wooden spoon until it thickens. Add the muscovado or brown sugar and stir continuously to avoid sticking from the pan. When the mixture turns lumpy, use a whisk and whisk vigorously to get rid all those lumpy bits.
You will know it's thick enough when you can hardly stir it, and it takes approximately 1 hour. Be sure to stir constantly to prevent mixture from sticking to the bottom of the pan. Take off from heat and transfer to a greased banana leaves. If you don't have banana leaves, you can just slightly grease the plate to avoid the Kalamay from sticking.
…..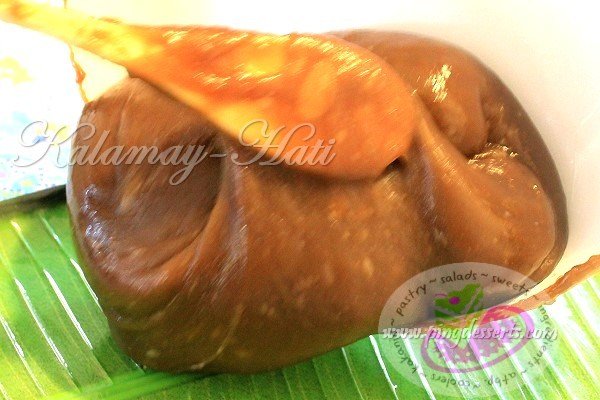 The secret of a thick, sticky and gooey Kalamay is when you cook in a low heat with constant stirring.