Health Tips And Tricks for Your Stomach Problems
Stomach problems can be one of the most uncomfortable and disruptive things in life. From indigestion to acid reflux, to a general feeling of unease—it's hard to live with a stomach that's constantly throwing off your mojo. But it doesn't have to be like this!
There are lots of practical health tips and tricks that you can use that will help get your stomach back on track, so you don't have to miss out on all the delicious food experiences life has to offer. In this post, we'll explore some easy steps towards gaining control over your digestion woes and promoting good health for the whole digestive system. With these helpful strategies getting back into balance is easier than ever before!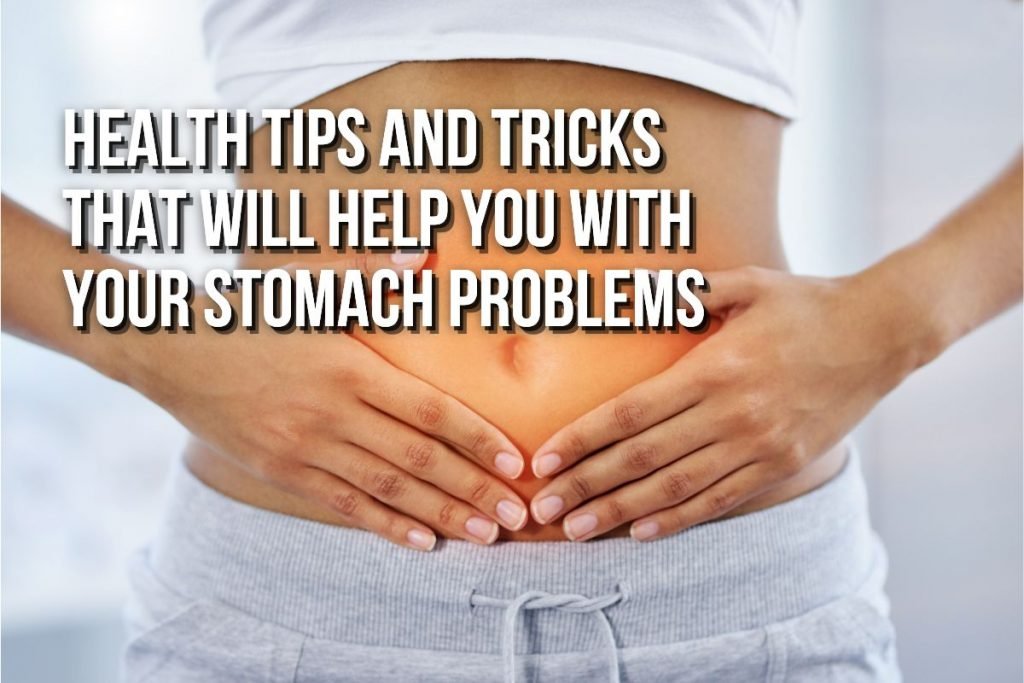 Drink Plenty of Water
Feeling bloated? Stomach in knots? Don't wish away your troubles – try adding some H2O! It's time to reach for the ever-important glass of water. Drinking lots of water is one of the healthiest habits you can adopt, and not just to quench your thirst. Drinking plenty of water can help flush out toxins and waste products that have accumulated in your digestive system, keeping things running smoothly instead of slowing down or seizing up. Water also relieves constipation and other digestive issues that can be painful and uncomfortable. So make it a habit to stay hydrated with plenty of good old-fashioned H20; you'll be feeling refreshed and rejuvenated in no time!
Incorporate Probiotics Into Your Diet
Probiotics are an important part of any gut health plan! They can help to improve digestion, reduce inflammation, and boost the immune system. When looking at ways to incorporate probiotics into your routine, consider adding fermented foods like yogurt, kefir, or kimchi. Or you can opt for probiotic supplements if you'd like to target specific strains. Regardless of what option you choose, introducing these beneficial bacteria into your diet is a smart move when it comes to promoting optimum stomach health.
Try Over-the-counter Remedies
One of the fastest and easiest ways to get relief from digestive discomfort is to try an over-the-counter remedy, such as a laxative or antacid. Laxatives supplements work by increasing the motility of the intestines and can help to reduce bloating and constipation. When combined with probiotics or digestive enzymes, they can be even more effective in relieving digestive issues. Be sure to talk to your doctor before taking any over-the-counter medications, so you can determine the best option for your particular needs.
Eat Slowly and Chew Your Wood Well
Eating quickly may seem like the way to get through your meals quickly, but it could lead to big trouble for your stomach. To avoid any potential bloating and discomfort, it's important to eat slowly and chew each bite thoroughly – it gives your digestive system a chance to do its job more easily. Taking a few extra moments to savor your food can go a long way toward improving your digestion, so take the time to enjoy each mouthful! Even if you're in a rush, try to remember that eating too quickly can lead to indigestion and discomfort.
Avoid Trigger Foods
We all have our favorite indulgences, but sometimes these treats don't always agree with our stomachs. Finding out which foods are triggers for your particular issues can be an important part of managing digestive problems. Keeping a food diary can help you track your diet and identify any potential problem areas, so you know what to avoid or at least minimize. This step towards getting the most out of your meals should not be overlooked! Pay attention to how your stomach reacts after eating certain foods so you can make the necessary adjustments. It may take some trial and error, but a better understanding of your body can help you create an individualized plan for healthy eating.
Try Herbal Remedies
Herbal remedies have been used for centuries to treat common ailments, and they are still popular today as natural solutions for digestive issues. From chamomile tea to slippery elm bark powder, there are plenty of herbal options that can help with bloating, indigestion, and other uncomfortable stomach problems. Herbs such as peppermint, ginger root, and fennel seed can all provide relief when your stomach is acting up – why not give them a try? keep in mind that some herbs may interact with any medications you are taking, so be sure to check with your doctor before trying anything new.
Manage Stress
It can be tough to manage stress in life, but when it comes to your digestive system, it is a must. Fortunately, there are some simple health tips and tricks that you can use to help keep your stomach problems at bay. Try out relaxation techniques such as meditation and yoga, or long deep breathing exercises, to bring your stress levels down. Taking a few moments each day for these activities can make a huge difference in how you feel and might even give you the relief you need.
Managing your digestive system doesn't have to be difficult! With a few simple steps, you can help keep your stomach healthy and get the most out of every meal. Start by taking a little extra time to enjoy your food, pay attention to any trigger foods or beverages that may cause discomfort, try herbal remedies and probiotics for relief, manage stress levels, and consider over-the-counter medications if necessary. These small changes can make all the difference in how well you digest your meals – so give them a try today!
You might like these: