How to prepare Watermelon Juice Recipe.
Watermelon Juice Recipe, There is nothing better than a natural fruit juice. This is a delicious fruity, sweet and refreshing Watermelon drink to beat the summer heat.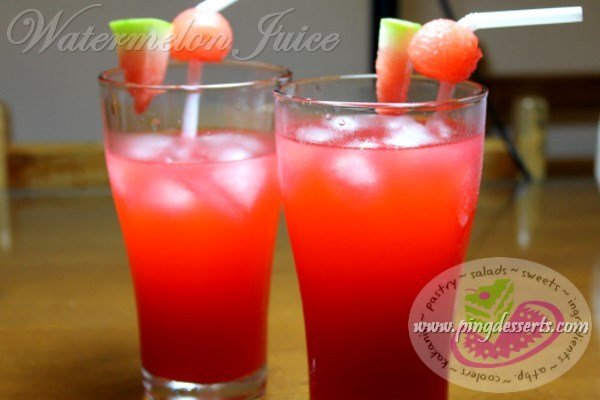 Watermelon Juice Ingredients:
3 cups watermelon, seeded & cut into chunks
1 cup ice cubes
1 tsp. lime or calamansi juice
1 tbsp. honey
sparkling water
Watermelon wedge or ball, to decorate
Watermelon Juice Instructions:
Cut 2 big slices of watermelon, remove the skin and seeds and cut into chunks. Place watermelon, honey, calamansi juice and 4 ice cubes in a blender and blend thoroughly. Strain between 2 glasses to get rid the pulps and bubbles . Add the remaining ice cubes and add a splash of sparkling water. Garnish with watermelon wedges or balls and straw.
…….
Totally refreshing . . .
. . .