How to make simple and easy delicious cake.
Black Forest Cake is a well-loved and a very popular cake here in the Philippines and Abroad. A classic tri-color Cake (red, white and brown) that looks stunning, beautiful and elegant. This cake is originally made up of 3 chocolate cake layers, each layer is moistened with cherry brandy, filled with cherry filling, covered with generous whipped cream, garnished with delicious chocolate shavings and top with maraschino cherries. Black Forest Cake is moist and dense at the same time, with a delicious fluffy whipped cream, a hint of brandy that complements well with the sweet cherry filling and chocolate shavings for a crunchy texture and melts in your mouth sensation, it's perfectly good!
Black Forest is one of the most best-selling cakes here at Red Ribbon, Bob's Café and other Pastry Shops. As time goes by, there are many recipe versions of Black Forest Cake and here is my version. I made it simple and easy, I use cheaper ingredients, omit the brandy and it tastes good and looks decent too.
Makes a 3-Layer Cake
Black Forest Cake Ingredients:
For the Chocolate Cake
Cherry Filling
1 Can Comstock Original Cherry Filling

or

1 cup Homemade Cherry Filling
Whipped Cream
2 cups of your favorite whip cream recipe
Chocolate Shavings
1½ cups dark or milk chocolate, melted
To Decorate
6-8 Maraschino Cherries with stem, drained
Cooking Procedure:
I got the cake recipe from Hershey's (#Recipe_Label) and I've been using this recipe for my cakes and cupcakes. I'm not fond of baking from scratch, but this one is a go to recipe. Bake your cake according to its direction. Divide the batter into 2 (8-inch) round pans for 2 layers or 3 (8-inch) round pans for a 3 layered cake. When it's baked, Fire off and let it cool down on a wire rack before using. I bake the cake a day ahead and I wrap in a plastic wrap and refrigerate.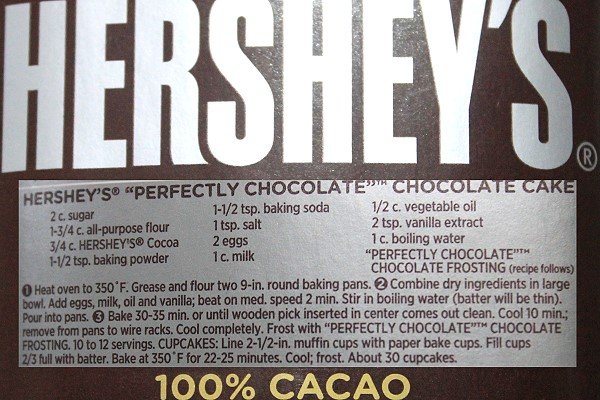 For the cherry filling: I highly recommend that you use a canned Comstock Original Cherry Filling, it's the best option, it taste great with lots of chunk cherries a perfect deal for this cake. But sadly, today I end up using the cheaper bottled Maraschino cherries because my budget tells me so, LOL. << For homemade filling: Use 1 bottled of Maraschino Cherries, reserve 6-8 cherries for toppings and set aside. And for the remaining cherries, roughly chopped it and reserve half cup of the cherry syrup. In a saucepan, combine 1/2 cup cherry syrup, chopped cherries, 3/4 cup sugar, 3/4 cup orange juice, 3 tbsp. cornstarch and stir well until cornstarch and sugar dissolves. Bring to a boil and simmer, stirring constantly until thickens, about 2-3 minutes. Fire off and stir in 2 tbsp. butter until well blended and shiny. Let it cool completely before using, or you can store it in a clean jar, for later use. >>
For the Cream: I've tried nestle all-purpose cream, but the problem is it doesn't reach soft peaks, what da?, Been trying hard, done all the acrobats nothing happens LOL. Try other brands, got so excited I whipped it like crazy, finally got soft peaks, (good job Ping!) But then again as I add my vanilla it starts to curdle, what da? I thought baking makes you calm and relax, Uhmm I didn't feel that way 🙂 🙂 🙂 . They say as long as you keep on trying you'll succeed, thank you Frosty Cream you made my baking journey easy. Here's a product that fits for me and maybe for you too, it's a hassle free, super cool, easy to whip and it holds perfectly. It's Frosty Boy Australia, Whip Cream Powder, all you have to do is add cool water, mix, whip, smile and you're ready to frost.
For the Chocolate Shaving, I use milk chocolate, you can use dark or any chocolate you prefer. Melt your chocolate in a double broiler and spread in aluminum foil using a metal spatula, spread until smooth or make some lines for texture. Chocolate thickness depends on your desired. Freeze to set, it only takes a minute or less. Break them gently into pieces and set aside. Repeat the process until you have enough chocolate to cover the whole cake.
Now that we already prepared all the components needed, let's assemble the cake. First, we need a cake board. Spread a little cream on the board, so our cake won't slide if we frost them. Place the first layer of your cake. Top with cream and followed with cherry filling, spread evenly. Cover with another layer of cake and again top with cream and cherry filling and top the last cake layer.
Cover the whole cake with whipped cream and pipe some swirls on top and decorate with reserve cherries. Cover the whole side of your cake with chocolates and refrigerate to set for about 2 hours before serving.
…..
Beautiful and wonderfully made Black Forest Cake. Yahoo! I made it and You can make it too!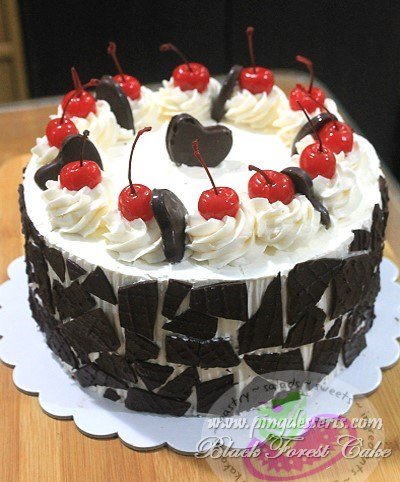 A delicious and moist Black Forest Cake that's meant to be shared & enjoyed with our loved ones!
.
Happy! Happy Birthday To Our Beautiful and Loving Tita Candie. She looks younger than her real age, well, I guess happy and cheerful people aged gracefully. Have a blessed day everyone!