Sapin Sapin Recipe, 4.3 out of 5 based on 11 ratings
GD Star Rating
loading…
How to cook Sapin-Sapin Recipe.
Sapin-Sapin Recipe  Sapin-Sapin is another favorite Filipino kakanin and commonly serve in fiestas. It is made from glutinous rice flour and coconut milk steamed to form a 3 layered cake. A tri-color sticky cake dessert with 3 different flavour combination. First layer is the ube flavor, second layer is the sweet potato flavour and last layer is the coconut flavour top with latik.
Sapin-Sapin Ingredients:
3cups of glutinous rice flour
¾ cup of white sugar
1¾ cups + 1can (400ml) of coconut milk
food coloring (orange and purple)
1/4 cup sweet potato, boiled & mashed
1/4 cup of ube, boiled and mashed
some banana leaves or wax paper
Sapin-Sapin Cooking Instructions:
For the Latik 

: Heat 1can (400ml) of coconut milk in a sauce pan.  

Bring to boil and turn the heat to low and simmer and stir occasionally.  

Wait for the oil and the coconut solid separates.

When the coconut solid turns light brown remove from heat and set aside to cool.

Use the oil to grease your baking tin and banana leaves. 
For Sapin-Sapin 

: In a bowl mix the glutinous rice flour, with the sugar and 1¾ cups coconut milk.   Mix them until it becomes homogenous.  Line your round pan (preferably about 9 inches in size) with your banana leaves.  Grease both tin and banana leaves with coconut oil and set aside until needed.  Divide your flour mixture into three portions.   Add the mashed sweet potato and orange coloring on the first bowl, mashed ube and purple coloring for the second bowl and plain coconut for the last one.
Preheat your steamer for about 5 minutes.  Pour the purple color first on your round pan and let it steam for 20 minutes. Cover top of the steamer with clean white cloth, before putting the Lid on to prevent the water from dripping into the mixture to avoid sapin-sapin from being soggy. Let it cool for about 10 minutes before adding the second layer.  Then add the orange layer over the first layer and steam it for another 20 minutes.  Let it cool again for about 10 minutes before adding the last layer. Lastly pour the white coconut mixture over the second layer and steam for another 20 minutes. 
Let it cool completely before removing from the pan.  Serve with prepared Latik or toasted shredded coconut.
…..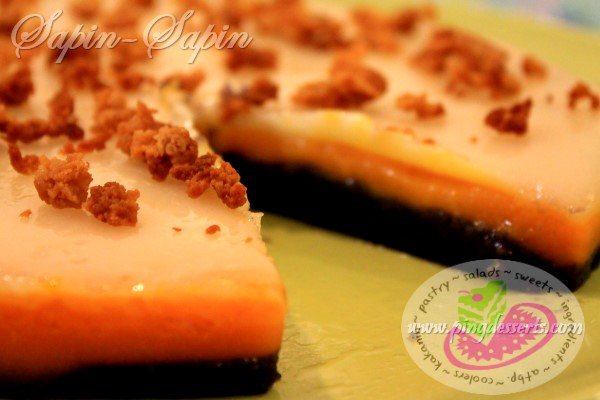 Sapin-Sapin kakanin with ice cold cola is one of the best merienda!!!