How to cook Filipino Bibingka Galapong.
Special Bibingka na Galapong Recipe is a traditional Filipino kakanin, a baked rice flour cake with soft, slightly dense, moist and tasty. This rice cake called "Bibingka" is usually made from rice flour, coconut milk, fresh milk, eggs, sugar, coconut strings and margarine. The old-fashioned way of cooking bibingka is cooked in a clay pot lined with banana leaves and heated with coal both at the bottom and at the top to bake. The banana leaf lining also adds aroma and flavor to the rice cake and for some they want the charred bibingka on top for a crunchy texture. And it is often served with different kinds of topping depends on the vendors Specialty. Toppings such as butter or margarine and grated coconut and some use grated cheese or salty eggs or a combination of both to make it even more special.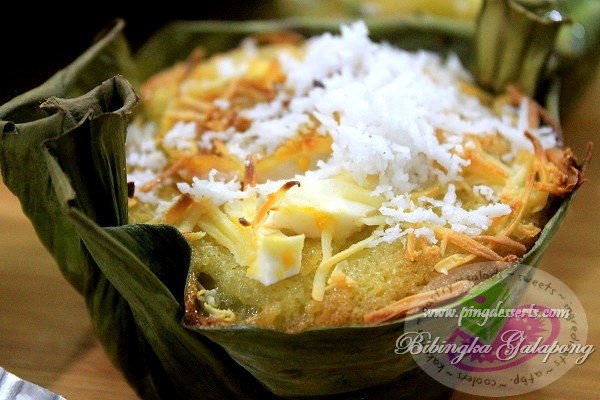 Bibingka Ingredients:
2-3 tbsp. Butter, melted
1 cup refined sugar
3 medium eggs
1 cup rice flour, sifted
1 tbsp. Baking powder
A pinch of salt
¼ cup fresh milk
1 cup coconut milk
Toppings:
2 pcs. salted eggs, sliced thinly
½ cup grated cheese
½ cup grated or desiccated coconut (optional)
You Need:
Muffin pan, (5oz. or 3oz.)
Pre-cut wilted banana leaves
Cooking Procedure:
First, you need to wilt the banana leaves using your stove top. Run the leaves slowly through low fire until you're done. Cut wilted banana leaves into a circle, use a paper liner as a guide for an easy cutting. Line your muffin pan with your prepared wilted banana leaves and set aside.
Preheat your oven to 375F and then, melt the butter quickly using the oven.
Start measuring all ingredients needed for your Bibingka.
In a large mixing bowl, combine melted butter and sugar and whisk well. Add the eggs, one at a time and whisk until smooth. Place a strainer on top of your mixing bowl and combine rice flour, baking powder, salt and sift together.

Mix the batter until smooth and no lumps. Add the fresh milk and coconut milk and mix until well blended. Fill the lined muffin pan with bibingka batter about 2/3's full. I'm using a 5oz. muffin pan so I'm going to bake it for 12-15 minutes.
At this moment take out your bibingka from the oven so you can add your toppings. Add sliced, salted egg and a generous grated cheese on top.
Bake again for another 15-18 minutes or until inserted toothpick comes out clean. Fire off, transfer in a rack to cool slightly and sprinkle some fresh grated coconut or desiccated coconut if desired.
These mouth watering Bibingka, really smells divine and taste really good 🙂
Bibingka are good when it's still hot and freshly baked, so serve these bibingka immediately with icy cold drinks or a cup of coffee.
Note: If you are using a 5oz. muffin pan it can make 8 pieces of bibingka and a 3oz. muffin pan can make a dozen. The cooking time varies depending on the size of your bibingka, the smaller one bakes faster so keep an eye on it.
Actually I made this before the New Year's Day but I didn't have much time to post and share this delicious Bibingka na Galapong recipe.
Posted: May 2012 Revised: January2015