How to make a chewy and moist Graham Balls perfect for Business and Party Ideas.
Graham Balls with Marshmallow and Sprinkles Recipe. A No-bake and easy to prepare graham mini treat that looks attractive on a dessert table. This is one of the most popular party favorites, especially for the kiddos, they enjoyed eating this sweet and chewy tiny ball. A delightful and chewy mini graham balls filled with fluffy and fruit flavored marshmallows, coated with assorted sprinkles.
Makes: 4 dozen
Ingredients:
Graham Dough:
4 cups crushed graham, divided (3¾ cups + reserved ¼ cup for coating)
1 can (300ml) Alaska sweetened condensed milk
4 tbsp. evaporated or fresh milk
Filling:
Coating:
¼ cup crushed graham or desiccated coconut
½ cup assorted sprinkles of your choice
You also Need:
48 pcs (1oz.) paper cups
4 mini boxes or 8 small clear view plastic container
Procedure:
In a large bowl, combine 3¾ cups crushed graham and (1) large can sweetened condensed milk and 3 tablespoons of evap milk to dilute condensed milk that stick in the can. Using a fork or a spatula, mix together until well blended and form a dough. If it's too sticky, add the remaining ¼ cup of crushed graham and mix again, until it resemble a cookie dough.
Use a food safety gloves or clean hands as possible when making a ball. Using a tablespoon, scoop out 1 tablespoon of graham dough and flatten, about 1½ inches and place a mini marshmallow in the center. Pinch the graham to seal the marshmallows inside and roll between your palm to form a ball. For easy rolling, use a little vegetable shortening or oil in your palm to avoid graham dough from sticking.
Continue making graham balls, one at a time until you're done. Coat each graham ball in crushed graham or sprinkles, roll to coat evenly and place each ball in paper cups. Refrigerate graham balls for about 10-15 minutes, until the balls are firm and hard. Serve graham balls, chilled or at room temperature, any leftovers can be stored in plastic container and keep refrigerated. This will last for 1 week if stored properly.
Here's our ingredients for Buko Pandan Gelatin:
Crushed Graham Crackers, Alaska Sweetened Condensed Milk, Mini-Marshmallows & assorted sprinkles.
For Party Idea: You can serve this in birthday party or make it as a party giveaways. With this recipe you can make 48 graham balls, just double the recipe if you need more. Ingredient Prices: for Crushed Graham you need 2 packs P34.50/pack, 1 Large (300ml) Alaska Sweetened Condensed Milk P46.00, Mini-Marshmallows P15.00 and Assorted Sprinkles 4 packs P10.00/pack. We also need 10z. cupcake liners P16.00 (My total cost is only P186.00).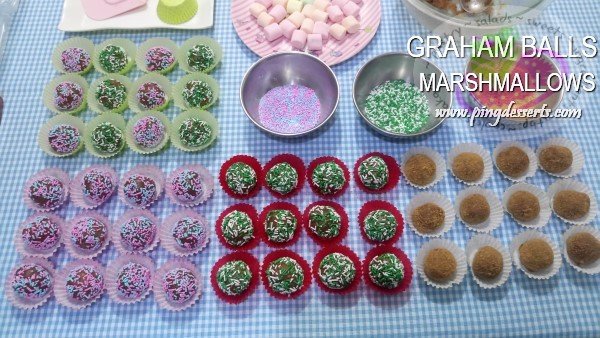 And if you are planning to have an extra income hopefully this recipe is a good idea and opportunity for you to start a home based business and sell them online. Place Graham Balls in a fancy cupcake liners and boxes, you can also use plastic containers but for me I prefer board boxes 'coz it looks pretty and much safer from cheap plastic containers that has a toxic chemicals.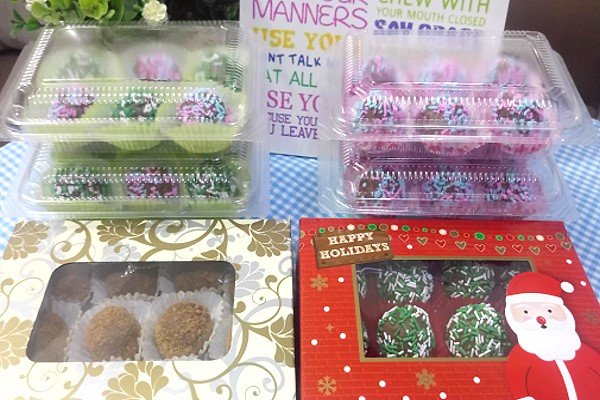 For the Packaging: A (7 x 5 x 1.5) box, design depends on your motif/occasion for only P8.00/box. You can also use a small size Clear View Plastic Container "Glow" brand for only P6.00/piece.
Having a trusted and good quality recipe, creating personalized packaging and pretty labels with a great promo strategy, I think it helps a lot to start a food business. Next time I'm going to make another version of graham balls using dried fruits and crushed nuts. Have a nice day guys and see you again on my next post 🙂
– oOo –
"Never regret anything that made you smile"